The growth of the global market for tint glass has dipped significantly in 2020, owing to the impact of the coronavirus pandemic. Restrictions on construction activity and automobile production, in addition to changes in consumer behavior, with increased purchases of essential has hampered the short-term scope of growth for the tinted glass market.
As per Future Market Insight's, tint glass market research, global revenues are expected to reflect 6.6% CAGR for the assessment period between 2020 and 2030. According to its latest report the market is likely to gain impetus from the incorporation of smart glass technologies and major investments into the commercial real estate sector.
The tint glass sector is expected to display healthy growth throughout the assessment period, with the adoption of smart glass and laminate tech, and the widespread use of glass for aesthetics in construction.
On the other hand, volatility of raw material supplies and prices, and strict laws against the use of tinted glass, especially on automobiles could potentially hinder market growth in the long term.
The report published by FMI encompasses an exhaustive overview of the market, covering essential dynamics of the tinted glass industry. Some key takeaways include:
The tinted glass market size was valued at over 18.5 billion in 2019, with growth diminishing substantially during the coronavirus pandemic, owing to lockdown restrictions on the global automotive and construction sectors.
Building and construction industry applications of tint glass are major contributors to market revenues, supported by demand for glass facades in commercial construction, in addition to favourable government regulations on energy efficient construction technologies.
Tint glass products with 6mm thickness is reflecting substantially higher tinted glass market share in comparison to 3mm, 4mm, and 5mm, 8 mm 10mm, and 12mm options. However, 8- and 10mm products are also expected to display a sharp rise through 2030.
East Asia will remain a prominent market for tint glass, with lucrative opportunities arising from the major automotive production facilities in the region. Also, the establishment of tint glass production facilities by international players, to leverage low labour costs will benefit the market.
"Tech innovations, including sustainable alternatives such as bio-based tint films, in addition to higher purchasing power is aiding market growth. Also, rising consumer awareness about the benefits of tinting films in automobiles will boost tint glass consumption for the foreseeable future," stated a lead analyst at FMI.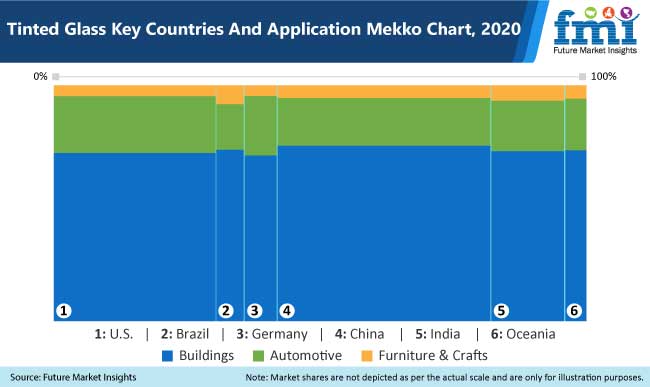 Covid-19 Effect on Tint Glass Market
The rapid spread of the coronavirus pandemic coupled with the resultant lockdown regulations imposed by governments has had a largely adverse impact on the tint glass market. Consumers are more inclined to focus their disposable incomes towards essential commodities, reducing short term demand.
Further, the lockdown restrictions on the manufacturing, automotive and construction sectors have had a significant impact on vehicle production and building activities further limiting demand. The tinted glass industry also continues to face challenges from the tariff wars between the US and China, which compounds the effects of the pandemic.
However, the market is likely to display a steady recovery towards 2021, as restrictions by governments are relaxed with the objective of limiting the strain on national and global economies gains importance.
Who is Winning?
In a new report, Future Market Insights has provided detailed analysis of the varied business strategies being used by participants in the tint glass market. Leading players are largely focused on investing their resources towards strategic collaborations and product launches to consolidate position in a fairly fragmented landscape and to expand their portfolios.
Some of the more important players in the tint glass market include AGC Inc., Saint Gobain, Vitro, Guardian Glass LLC, Xinyi Glass Holding Ltd., Kinestral Technologies Inc., and Qingdao Vatti Glass Co. Ltd., among others.
For Information On The Research Approach Used In The Report, Ask Analyst @ https://www.futuremarketinsights.com/ask-question/rep-gb-12683
About Chemicals & Materials division of FMI
The Chemicals & Materials division at FMI offers distinct and pin-point analysis about the chemicals & materials industry. Coverage of the chemicals and materials market extends from commodity, bulk, specialty and petrochemicals to advanced materials, composites, and nanotechnology. The team also puts special emphasis on 'green alternatives', recycling and renewable technology developments, and supply-demand trade assessment. Our research studies are widely referred by chemical manufacturers, research institutions, channel partners, and government bodies for developing – 'The Way Forward'.