Two wheeler batteries are installed in both, IC engine-propelled as well as in electric two wheelers, to operate the electric parts of the vehicle. In electric two wheelers, batteries are used to power the engine and transmission of the vehicle. Rising demand for two wheelers, including electric two wheelers, sports bikes, and cruiser bikes, is anticipated to create significant growth opportunities for two wheeler lead acid batteries through 2029.
According to a new research report published by Future Market Insights (FMI), the global two wheeler lead acid batteries market is estimated to exhibit a healthy 6% CAGR from 2019 to 2029, to reach a valuation of more than US$ 7 Bn by the end of 2029.
Key Takeaways of Two Wheeler Lead Acid Batteries Market Study
South Asia and East Asia are anticipated to emerge as regions holding substantial market share in the coming years. Large existing fleet and high sales of two wheelers are anticipated to bolster growth in these regions.
The aftermarket segment is expected to grow at a considerable pace, owing to scheduled replacement of the current fleet, increasing use of two wheelers, and growing consumer preference for electric vehicles.
Key players are focusing on partnerships with local servicing stations, distributors, and automotive OEMs to promote their products.
Improving product quality by implementing innovative technologies in the manufacturing process and producing a wide category of products according to the specific demand of customers is vital for market players.
Entering into long-term contracts with end users can provide stability in revenue generation and growth opportunities for market participants.
"Maintenance cost for the battery and prolonged operational life are the key considerations while procuring two wheeler lead acid batteries. In a majority of cases, flooded batteries are replaced with VRLA batteries, owing to their maintenance-free operation and longer lifespan."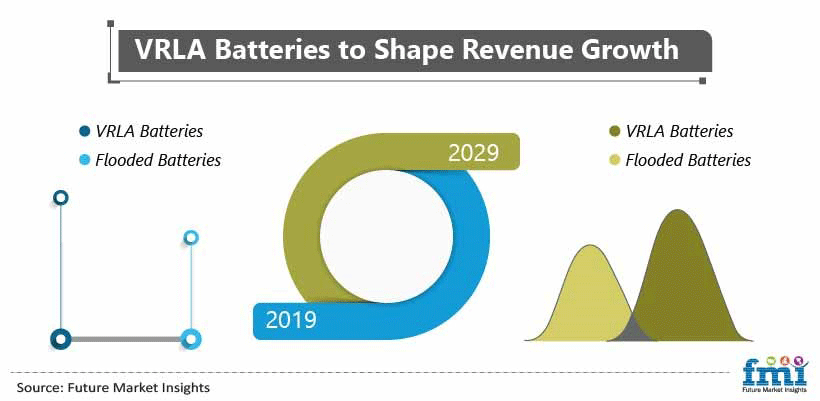 Two Wheeler Lead Acid Batteries Market: Competitive Landscape
The two wheeler lead acid batteries market is fragmented in nature, owing to the presence of several battery providers across the globe. Tianneng Battery Group Co., Ltd., GS Yuasa, and Chaowei Power Holdings Limited are considered to be the leading players in the two wheeler lead acid batteries market. A majority of market players are strengthening their sales network to improve in the aftermarket segment. They are also focusing on manufacturing durable products at competitive prices.
Rising Traffic Congestion and High Cost of Gasoline Pushing Sales of Two Wheelers
Extensive use of two wheelers in developing countries such as India and China to tackle problems such as traffic congestion, poor condition of roads in rural areas, and high gasoline prices are all expected to fortify the growth of the two wheeler lead acid batteries market space.
For Information On The Research Approach Used In The Report, Ask Analyst @ https://www.futuremarketinsights.com/ask-question/rep-gb-11142
More Valuable Insights on Two Wheeler Lead Acid Batteries Market
FMI's research on the two wheeler lead acid batteries market is segmented into six major segments – capacity, technology, two wheeler, battery type, sales channel, and region. This extensive segmentation of the market helps readers evaluate the lucrative opportunities that are present and will appear over the coming years in the global two wheeler lead acid batteries market.
About the Automotive Division of FMI
The automotive division of FMI offers a novel approach and innovative perspective in the analysis of the industrial automation market. Comprehensive coverage of capital, portable, process, construction, industrial, and special purpose machinery across the manufacturing sector and distinctive analysis about the installed base, consumables, replacement, USP-feature-application matrix make us a pioneering voice in the industry. We are preferred associates with established as well as budding industry stakeholders, and channel partners when it comes to sustaining, growing, and identifying new revenue prospects.