Global Variable Frequency Drive (VFD) volume sales surpassed 32 million units in 2020. The demand for VFD is still expected to augment due to improving reliability and performance. Moreover, VFD developments are inclining towards industry-specific solutions which are creating competition among leading companies.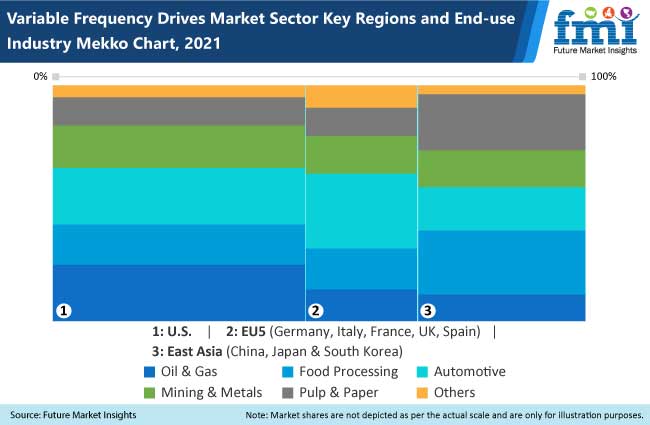 Leading research and consulting firm, Future Market Insights (FMI), in its latest study, finds that the market is set to grow at a value CAGR exceeding 5℅ through 2031.
Worldwide Capital Infrastructure Projects to Influence Production Among Manufacturers
Capital Infrastructure Projects are part and parcel of urbanization. These projects are set to contribute to economic growth in the long run. Therefore, emerging economies in Asia are seen as a lucrative market because of construction activities and automation industry productions surge vigorously.
Furthermore, such projects have witnessed an alarming increase in power and electricity costs. Cost optimisation and energy conservation are therefore being prioritised by manufacturers leading to the development of equipment designed to reduce energy consumption; the aftermath being increasing sales and applications in oil, gas and mining industries and agricultural sectors as well.
Request a report sample to gain comprehensive market insights at
https://www.futuremarketinsights.com/reports/sample/rep-gb-140
Smart VFDs Creating A Potential Space In The Market
The collaboration of VFDs with Industrial Internet of Things (IIoT) is expected to rev up sales in industries that highly depend on automation. VFDs are also designed to be programmed with logic controllers including remote access which allows operators to monitor projects and technicians can also inspect the equipment conditions remotely. It also enables predictive maintenance and real-time monitoring. Thus, VFDs are expected to expand in the post-pandemic scenario as it encourages smart operations that rarely require human intervention.
US and Germany Continues to Contribute Largely to the Growth of the Market
FMI projects the volume CAGR for the US to be over 6%. The U.S. market has witnessed demands for applications in the Oil and Gas segment as developing VFDs are showing promising longevity and durability in the harshest environments.
On the other hand, Germany's automation market is likely to expand at an annual rate of surpassing 7℅ throughout the forecast period. HVAC systems applications in the automatic segment are gaining momentum along with electric vehicles that require high ventilation and air conditioning systems. FMI states that about 6 million vehicles are generated by the automation market.
China has been under the radar by many because of its rapid growth in various industries. In the same way, the VFD market is seeing a surge because of rapid production of battery-powered, plug-in hybrid electric vehicles, hydrogen fuel-cell in the move towards a Green Environment. Thus, China is gradually pacing to claim a dominant position in the VFD market.
For information on the Research Approach used in the Report, Request Methodology@ https://www.futuremarketinsights.com/ask-question/rep-gb-140
Expenses in Installing and Maintaining VFDs Pose Threat to Market
As markets depend on end-users, maintenance of VFDs has led to end-users opting for other easy-to-maintain alternatives. VFDs require separate troubleshooting programs for maintenance. Let alone maintaining, installation of VFD systems require additional installation components such as EMI filters, RF filters and line or load reactors, finds FMI.
Therefore, key market players in the backdrop of rejuvenating automation manufacturing industries, construction activities are attempting to make developments that are cost-optimized coupled with energy conservation. The updated edition of the report provides comprehensive coverage of the likely key strategies of market players. Some of the players profiled in the report include ABB Ltd, Siemens AG, Danfoss A/S, Rockwell Automation, GE Energy Power Conversion, Toshiba International Corporation, Schneider Electric, Mitsubishi Electric Corporation, Honeywell International Inc., Emerson Industrial Automation, Fuji Electric Co. Ltd, Johnson Controls Inc., Eaton PLC and Hitachi Ltd
We Offer tailor-made Solutions to fit Your Requirements, Request Customization@ https://www.futuremarketinsights.com/customization-available/rep-gb-140
Product Synopsis
A recent market study published by FMI on the Variable frequency drives market includes global industry analysis for 2016-2020 & opportunity assessment for 2021-2031, and delivers a comprehensive assessment of the most important market dynamics. After conducting thorough research on the historical and current growth parameters of the Variable frequency drives market, the growth prospects of the market are obtained with maximum precision.
Variable frequency drives Market: Taxonomy
The global Variable frequency drives market is segmented in detail to cover every aspect of the market and present complete market intelligence to the reader.
| | |
| --- | --- |
| Drive | AC Drive,DC Drive |
| Voltage Range | Low/Medium |
| Application Type | Standard,Regenerative |
| End-use Industry | Pump,Fan,Compressor,Conveyor,HVACO,thers |
| End-use Industry | Oil & Gas,Food Processing,Automotive,Mining& Metals,Pulp & Paper,Others |
| Region | North America,Latin America,Europe,South Asia,East Asia,Oceania,Middle East & Africa |