Automotive body in white market is set to be valued at US$ 59.66 Bn in 2021, with a lucrative long-term projection, according to latest study conducted by Future Market Insights (FMI).
The rising demand for sustainable means of transportation is expected to propel the automotive body in white market growth.
Some of the leading manufacturers are focusing on providing high quality body in white and are expected to invest in new technologies and advanced manufacturing procedures in order to stay ahead of the competition.
The rise in the automotive production globally is expected to drive the demand for body in white during the forecast period. Governments in various parts of the world are introducing regulations to encourage the incorporation of innovative technology.
Body in white manufacturing companies are entering into merges and acquisitions with leading automotive OEMs and tier 1 suppliers in order to expand their market presence.
The global automotive industry suffered a major decline of production and sales in 2020 due to pandemic, but the market is slowly recovering as the manufacturing facilities have resumed production of automotive vehicles.
According to research, the global automotive body in white market is projected to exhibit growth between 3% and 4% during the tenure of 2021 to 2031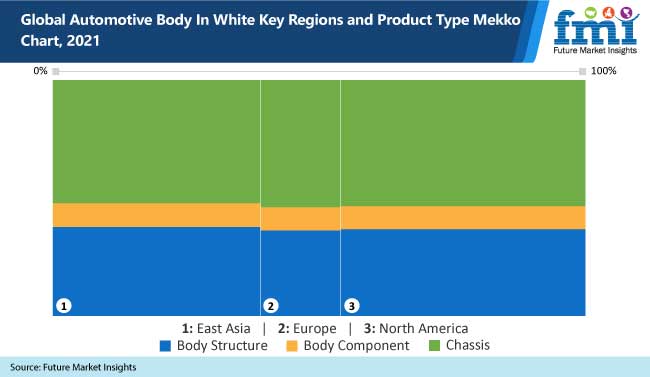 Key Takeaways from Market Study
Global demand for automotive body in white is rising due to the increase in the production and sales of passenger vehicles in developed and developing countries.
In terms of product type, body structure is projected to grow at an impressive CAGR, ranging from 3.5% to 4%.
In the vehicle type segment, passenger vehicles segment holds lucrative growth opportunities and is anticipated to create incremental $ opportunity worth US$ 18,875 Mn between 2021 and 2031
The market in East Asia is projected to expand at a CAGR of close to 4.2% from 2021 to 2031.
"The market is predicted to grow due to the increasing global production of automobiles and the deployment of innovative manufacturing procedures" says a Future Market Insights analyst.
Competitive Landscape
The market is consolidated with key players serving leading OEMs and automotive tier 1 suppliers. These players are likely to invest in new technology developments and expansion of their networks in order to increase their market shares. Some of the key players in this industry are Kirchhoff Automotive GmbH, Benteler International, Voestalpine AG, Gestamp Automocion, CIE Automotive, ThyssenKrupp AG, Magna International Inc., JBM Auto, Martinrea International Inc., Shiloh Industries, Dura Automotive Systems, H-One Co., Ltd, Autokiniton Global Group, Multimatic Inc. and Futaba Industrial Co., Ltd.
For Information On The Research Approach Used In The Report, Ask Analyst @ https://www.futuremarketinsights.com/ask-question/rep-gb-13754
Find More Valuable Insights
The research report analyzes demand for automotive body in white. The global automotive body in white market has been analyzed with the COVID-19 impact, various macroeconomic factors, market trends & market background. As per Future Market Insights' research scope, the market has been analyzed on the basis of product type, vehicle type and region. The report provides qualitative and quantitative information on various players in this market. This report also tracks the market by both, supply side and demand side.
About the Automotive Division of FMI
The automotive division of FMI offers a novel approach and innovative perspective in the analysis of the industrial automation market. Comprehensive coverage of capital, portable, process, construction, industrial, and special purpose machinery across the manufacturing sector and distinctive analysis about the installed base, consumables, replacement, USP-feature-application matrix make us a pioneering voice in the industry. We are preferred associates with established as well as budding industry stakeholders, and channel partners when it comes to sustaining, growing, and identifying new revenue prospects.