According to a report by Future Market Insights (FMI), the global firearm lubricants market is expected to reach US$ 523.8 Mn by 2031. Asia-Pacific has been identified as an emerging market for the firearm lubricants. It is expected to continue exhibiting high growth backed by increasing demand from countries such as India and China.
A key example to support this statement is that countries like India, China, and Israel are investing large sum in their defense sector. According to FMI, the military and defense sector over 60% of global sales. Shift from mineral based lubricants to bio lubricants due to their excellent properties and environmental friendly nature, especially in defense industry is set to be a new trend witnessed in the market.
Key Takeaways of Global Firearm Lubricants Market Study
The global firearm lubricants market is estimated to expand at a CAGR of 2.5% by during the forecast period of 2021-2031
The U.S. is expected to account for over 85% of firearms lubricants sold in North America in 2021
The U.K. market will continue exhibiting a moderate Y-o-Y growth at 1.6% in 2021
The demand from Germany and France will remain positive through the forecast period
China will continue leading sales in East Asia
"Growing demand from military & defense industry is expected to drive the firearm lubricants market through the forecast period 2021-2031. Companies operating in the market are focusing on expansion of their footprint especially in emerging countries with strong military infrastructure," says an FMI Analyst.
The global firearm lubricants market is expected to gain considerably from increasing demand from military & defense industry. Manufacturers in the firearm lubricants market are focusing on capitalizing on opportunities in Asia. Increasing security threats across several countries give tailwinds to growth recorded in the region.
Expansion of distributors & trade partners across developing regions is intended at creating a strong footprint. India, China, Russia, the U.S., Israel, among other countries are providing ample opportunities for firearm lubricants market.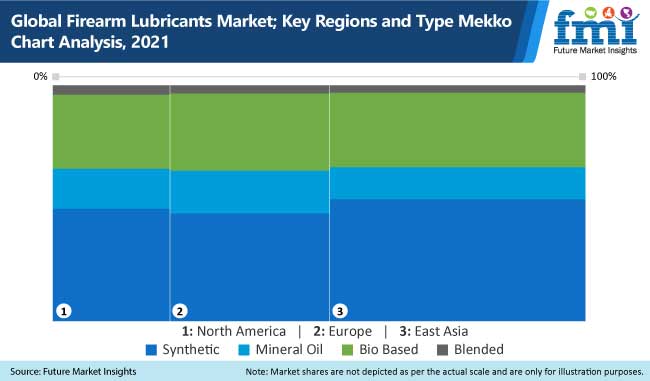 Who is winning?
The global firearm lubricants market has been forecast to witness an influx of regional level manufacturers. The Tier 3 manufacturers account for maximum share in the global market. Some leading players included in the report are Lucas Oil Products, Inc, ITW-ROCOL, L&R Ultrasonics, Amsoil Inc, MPT Industries, G96 Products Inc., Radco Industries, Inc., Pacific Specialty Oils, Ballistol and Tier 3 manufacturers such as Clenzoil Unlimited, Taurus Petroleum Pvt. Ltd., and many regional players' manufacturers across the globe are anticipated to create tough competitive environment on the global level.
Request Sample Copy of this Report @ https://www.futuremarketinsights.com/reports/sample/rep-gb-8630
Firearm Lubricants Market
By Type
Synthetic
Mineral Oil
Bio Based
Blended
By Form
Oils
Aerosol Spray
Grease
Other Fluid
By Application
Guns & Pistols
Tanks & Armored Vehicles
By End-use
Military & Defense
Police & Private Security
Individuals
By Region
North America
Latin America
Europe
South Asia & Pacific
East Asia
Middle East & Africa