Hexylene glycol is witnessing high demand in the personal care and cosmetics industry, since it is used as a surfactant, emulsifier, and viscosity reducing agent in several products. Moreover, growing utilization of hexylene glycol as a direct solvent in paints & coatings, household and industrial cleaners, etc., is expected to pave the way for decent sales during the forecast period (2019-2029).
The global hexylene glycol market was valued at around US$ 187 Mn in 2018, with a market volume of 73,590 tons.
Request a Complete TOC of this Report with figures: https://www.futuremarketinsights.com/toc/rep-gb-5703
Key Takeaways from Global Hexylene Glycol Market Study
Pharmaceutical and industrial-grade hexylene glycol is likely to be sought-after in the future, owing to the growth of pharma and construction industries.
Demand for printing inks is rapidly increasing due to rapid growth of the packaging industry. This factor will drive the growth of the hexylene glycol market, owing to its application in the formulation of printing inks.
Growth prospects are high in emerging markets such as India and Indonesia. Companies are focusing on different strategies in order to ensure good presence in both, emerging and matured markets. Since there are limited opportunities for hexylene glycol manufacturers in developed regions, manufacturers are focusing on emerging markets to capture a larger market share.
East Asia, South Asia, and North America are expected to be prominent regions over the forecast period, owing to the presence of a large number of tier II & III players in East Asia and tier I players in North America.
"Low evaporation rate and complete miscibility with water make hexylene glycol an excellent solvent. As a result, its application across several end-use industries is projected to rise, driving market growth over the forecast period."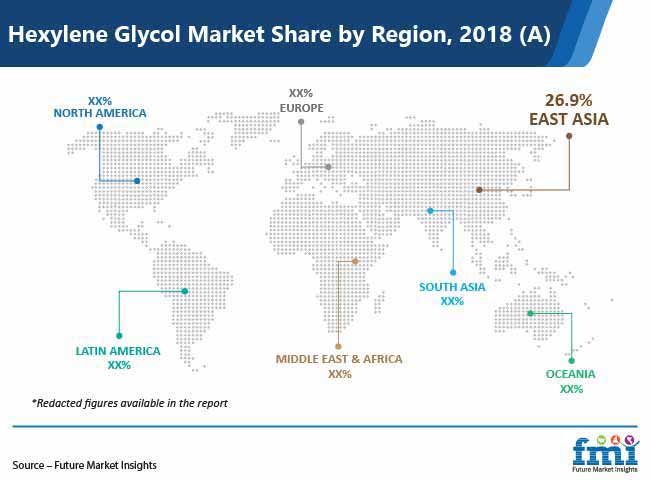 Hexylene Glycol Market: Competitive Landscape
The hexylene glycol market is fairly consolidated. Global players such as
BASF SE,
Solvay SA,
Dow DuPont, and
Lonza Group
Download Your Sample PDF Copy of This Report: https://www.futuremarketinsights.com/reports/sample/rep-gb-5703
HEXYLENE GLYCOL MARKET TAXONOMY
The global hexylene glycol market is segmented in detail to cover every aspect of the market and present complete market intelligence to the reader.
Grade
Pharmaceutical
Industrial
Application
Solvents
Chemical Intermediates
Antifreeze
Others
End Use
Construction

Adhesives
Concrete Additives

Drugs

Pharma Equipment
Formulating Agents

Paints & Coatings
Chemicals
Oil & Gas
Leather & Textiles
Others
Region
North America
Latin America
Europe
East Asia
South Asia
Oceania
Middle East & Africa
have invested strategically in the hexylene glycol market in the recent past, which suggests that major manufactures are keeping tabs on the market, as it holds a lot of potential in the coming future. Research & development, coupled with expansion of production capacity and footprint, remains the key strategy being followed by hexylene manufacturers to enhance productivity and capture new market opportunities.
North America Holds Noteworthy Share
North America is anticipated to hold a prominent share of the global hexylene glycol market, owing to increasing demand from the paints & coatings industry. Another key factor driving growth of the hexylene market in North America is the focus of manufacturers on customization of products as per specific applications. Hexylene glycol is also prominently used as an antifreeze agent in North America, which is bolstering its sales in the region.
Looking for More Information?
The market report on hexylene glycol published by Future Market Insights brings to the fore a pin-point analysis of the market, and offers comprehensive information with historical demand data of 2014-2018 and forecast statistics for 2019-2029. The study offers insightful information on the global hexylene glycol market based on various categories – grade (pharmaceutical and industrial), application (solvents, chemical intermediates, antifreeze, and others), and end use (construction, drugs, paints & coatings, chemicals, oil & gas, leather & textiles, and others), across seven regions. This study highlights key market players who are well-known vendors and have proven themselves as key shareholders in the global hexylene glycol market. Some of the market players included in the report are
BASF SE,
Solvay SA,
Dow DuPont,
Lonza Group,
LANXESS, and
Arkema, among others.
Ask us your Any Queries About this Report: https://www.futuremarketinsights.com/askus/rep-gb-5703
About Chemicals & Materials division of FMI
The Chemicals & Materials division at FMI offers distinct and pin-point analysis about the chemicals & materials industry. Coverage of the chemicals and materials  market extends from commodity, bulk, specialty and petrochemicals to advanced materials, composites, and nanotechnology. The team also puts special emphasis on 'green alternatives', recycling and renewable technology developments, and supply-demand trade assessment. Our research studies are widely referred by chemical manufacturers, research institutions, channel partners, and government bodies for developing – 'The Way Forward'.
For additional information, write to the analyst at press@futuremarketinsights.com