Organic cosmetics are getting increasingly popular, compelling even most celebrated brands to expand their product lines. Future Market Insights (FMI0 in a new study identifies the rising demand for clean label certifications, including non-GMO, vegan, cruelty-free, and others within the cosmetics industry will boost the organic cosmetics market. FMI has forecast it to reach US$ 187.4 Mn by 2021.
Natural claims have, apart from being important product purchase drivers when combined with product efficacy claims and brand identity, triggered the sustainability quotient. Consumers also have begun demanding full transparency from cosmetic companies with regards to their sourcing methods, product, ingredients and sustainability practices. The pressure on cosmetics brands and manufacturers to demonstrate their social and environmental credentials is increasing; so more of them are finding ways to transform their own brands through sustainability-focused products, services and consumer experiences.
The packaging trend within the personal care industry have restructured into more safe, natural formulas and practical packaging. Increasingly natural solutions within the product arena has showed positive response, and following the trend natural solutions are being implemented in the product packaging as well. Apart from making immediate connection with lucrative packaging design, inculcating natural solutions is a marketing strategy by the companies.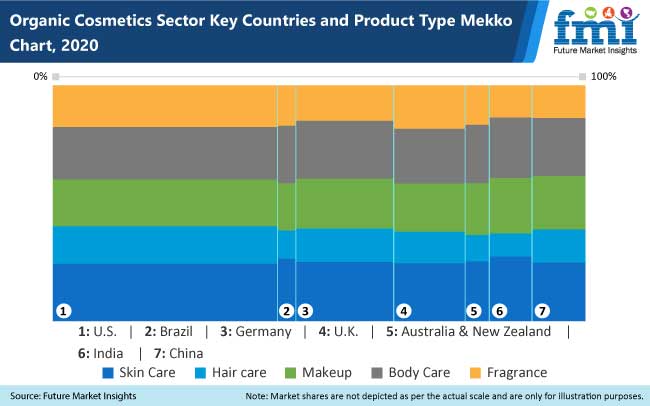 For marketing premium ingredients, manufacturers consider two versions of their material, one for formulator and other for customer. The players in the market are promoting their products by using various eye catching connotations like 'synthetic free', 'non-toxic', 100% natural and organic, chemical free and many others. Antimicrobial is the new connotation that is currently used to market baby products.
This change in consumer buying preference has encouraged the players in the market to stimulate innovation and expand the portfolio, tapping the unexposed segments of the industry and as a result escalating the demand over the forecast period. In terms of product type, skin care accounts for a notable share. By 2021, skin care segment is expected to hold more than 40% of the global market.
Key Takeaways from the Organic Cosmetics Market Study
FMI in its latest study has forecast the market to rise at a CAGR of 5.0% between 2021 and 2031
The U.S. will emerge as a key market, accounting for nearly 80% of organic cosmetics market in North America
Growth in the U.K. will remain moderate. FMI forecasts the market to record nearly 1.9% Y-o-Y growth in 2021
While Germany and France too will continue exhibiting demand for organic cosmetics, Italy is expected to emerge as a lucrative pocket in Europe
Japan, China, and South Korea will emerge as key markets for organic cosmetics in East Asia. Of these, Japan is likely to dominate
Impact of COVID-19 & 2020 Market Analysis
The current pandemic outbreak has imposed numerous challenges on the part of supply side and demand side. The temporary regulation imposed by regional governments to restrict the movement has impacted supply chains drastically. Besides this, the specular shift from discretionary spending to essential goods has further negatively impacted the market growth. E-Commerce is redefining the commercial activities around the world. In fact, the Covid-19 pandemic and lockdown effects have tipped the involvement of e-Commerce within all industries. The segment of population not prevalent with internet retailing has also adopted it, it being the only resort. There is a lot of opportunity for companies and online services to work together to offer greater engagement to consumers.
Who is winning?
Few key players in the organic cosmetics market are Estee Lauder, L'Oréal Group, WELEDA Inc., Groupe L' OCCITANE, KORRES Group. The Clorox Company, The Honest company, Himalaya Drug Company, Babylist Inc., Avalon Orgaics, KORA Organics, among others.
Market players are aggressively investing to encourage and promote product development with an aim to gain a competitive advantage over other players operating in the market. Innovative product portfolio establishment and expansion of portfolio is the most adopted strategy by the leading players. Innovation is that tool, which helps in luring and convincing consumers to invest in certain product category. It helps in differentiating one product from other by highlighting its USP, which generally differs from one brand to another.
Get Valuable Insights into Organic Cosmetics Market
Future Market Insights, in its new offering, provides an unbiased analysis of the global Organic cosmetics market, presenting historical demand data (2016-2031) and forecast statistics for the period from 2021-2031. The study divulges compelling insights on the organic cosmetics market based on the product type (skin care, hair care, makeup, body care and fragrance), end user (men, women, baby and unisex), sales channel (hypermarkets/supermarkets, convenience stores, specialty stores, direct selling, departmental stores, online retailing, and other sales channel), price range (economy, mid-range, premium), across seven major regions.