Increasing demand from oil & gas industry for drilling fluids is expected to fuel the demand for organo-modified bentonite. According to a new study by Future Market Insights (FMI), the market for organo-modified bentonite is set to reach US$ 444.8 Mn by the end of 2031.
Organoclays have found widespread use as fillers for polymers, rheological additives & thickeners in polymer solutions and as components of systems used as drilling fluids. Furthermore, the bulk of organo-modified bentonites is prepared using derivatives of quaternary ammonium salts, consisting primarily of long alkyl chains and functional groups such as hydroxyethyl, benzyl and others.
Moreover, organo-modification has resolved several problems associated with the combination of bentonites with polymers. Its increasing application across diverse sectors will continue to drive the market through the forecast period.
Key Takeaways of Organo-Modified Bentonite Market Study
Organi-modified bentonite sales to increase at above 6% CAGR through the forecast period
Backed by strong presence of oil and gas sector, the U.S. will lead North America with a share of above 90% in 2021
Application across diverse sectors will enable the U.K. market to register 5.5% Y-o-Y growth in 2021
Germany and France are projected to record high demand driven by rising demand from paints & coatings sector
China will continue dominating East Asia, while South Korea and Japan will register positive sales
"Bentonite manufacturers are striving to enter into the organo-modified bentonite business with an integrated production process. Also, most manufacturers are collaborating with existing manufacturers for technological expertise. Organo-modified bentonite manufacturers are engaged in developing new process technologies to utilize organo-modified bentonite for different applications" Says a FMI analyst.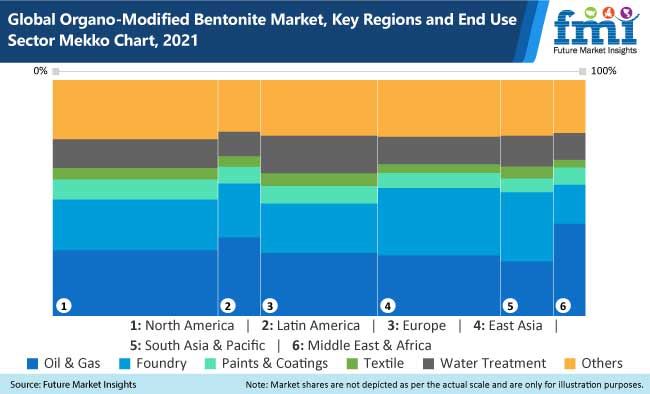 Demand from Diverse Industry Set to Drive Growth
According to FMI, organo-modified bentonite has immense scope for application in the paint and coating industry owing to its characteristics such as strong thickening ability, good compatibility and are applicable to low and middle polar solvent systems. Also, organo-bentonites have a positive influence on rheological properties such as drilling fluid, completing fluid, and others including anti-sagging, which reduces settling in containers. Organo-modified bentonite is especially manufactured for use in solvent-based system, this solvent-based system containing good adhesives properties such as durability.
Who is Winning?
The global organo-modified bentonite market can be considered as consolidated, few leading players account for a prominent share of the total Organo-Modified Bentonite market. Manufacturers are focusing on long-term contracts with end users for maximizing profits and ensuring continuous revenue flow.
Key market participants including Elementis, BYK, MI-Swaco, Laviosa, Lamberti, Huate Corp., Unitech Chemicals (Zibo), Camp Shining, Tolsa, Manek Group, Zhejiang Anji Tianlong Organic Bentonite Co. Ltd., Zhejiang Qinghong New Material Co. Ltd. and Changxing Guangda New Materials Co., Ltd. amongst others are focusing on increasing their share in global market by entering into strategic acquisitions of medium players and collaboration with other market participants.
For More Details, Ask Analyst @ https://www.futuremarketinsights.com/ask-question/rep-gb-13031
Organo-Modified Bentonite Market by Category
Application
Drilling Fluid
Clarification Agent
Nucleating Agent
Binder
Absorbent / Adsorbent
Others
End Use
Oil & Gas
Foundry
Paints & Coatings
Textile
Water Treatment
Cement
Cosmetics
Lubricants & Greases
Coal Briquette
Region
North America
Latin America
Europe
East Asia
South Asia & Pacific
Middle East and Africa (MEA)