As per a new report by Future Market Insights (FMI), the power liftgate market reached a US$ 2.3 billion valuation in 2019, and is projected to display a strong 8% CAGR. Improvements in automation tech, and the rising popularity of retrofitting are expected to aid long-term developments in the industry.
While the market is expected to display a positive growth trajectory in the coming decade, prohibitive costs of configuration, and limited use in low and mid-range automobiles remain deterrents.
Key Takeaways
The size of the power liftgate market is estimated to reach US$ 2.3 Bn by the end of 2020, with investments into automotive automation technologies being the key factors aiding developments in the industry.
Luxury passenger cars will remain the leading end-users of power liftgates, while commercial vehicles are expected to reflect steady growth on the back of higher levels of domestic trade and ecommerce.
Semi-automatic versions of power liftgates reflect relatively higher, albeit declining market share, owing to improvements in recent years in terms of automation technologies including AI and IoT.
North America, followed by Europe, are lucrative markets for power liftgates, driven by strict emission regulations and the presence of leading automobile market players.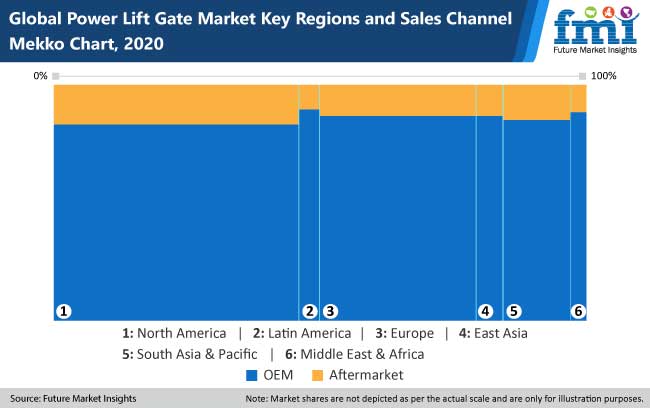 "Rising demand for reliability and comfort in driving experience and the growing value of the luxury vehicles segment around the world are key factors driving the demand for power liftgates. Manufacturers are pushing for improvements in terms of temperature and shock resistance, which will aid growth in the long-term," said a lead FMI analyst.
Covid-19 Effect on Power Liftgate Market
Lockdown restrictions have affected production activities. Also, restrictions on trade have disrupted supply chains for raw materials and components.Concerns in terms of workforce shortage and finances will also remain important for the duration of the crisis. Changes in consumer spending behavior have impacted automotive sales, which in turn has hurt the demand for power liftgates. Recovery is likely to be gradual, owing to economic uncertainties and the largely non-essential nature of automotive components for the near future.
Who is Winning?
In its new report, FMI has covered essential data on key business strategies that have been gaining traction in the power liftgate market. Market leaders have been focused largely on product development strategies, in addition to geographical expansion, especially considering the high potential of emerging economies.
For Information On The Research Approach Used In The Report, Ask Analyst @ https://www.futuremarketinsights.com/ask-question/rep-gb-12888
Continental AG, Stabilus GmbH, Huf Hulsbeck & Furst GmbH & Co., Strattec Security Corporation, Brose Fahrzeugteile GmbH & Co., Johnson Electric Holdings Ltd., HI-LEX Corporation, VOXX Electronics Corp, Power-Packer Corporation, Magna International, Autoease Technology are some of the more prominent market players in the industry.
More Insights on FMI's Power Liftgate Market Study
Future Market Insights in a recent report provides an unbiased analysis of the global power liftgate market covering historical demand from 2015 to 2019 and forecast data for 2020 to 2030. The study gives projections on the power liftgates on the basis of sales channels (OEM and aftermarket), vehicle types (passenger car and commercial vehicle), and product types (automatic and semi-automatic) in six key regions.
About the Automotive Division of FMI
The automotive division of FMI offers a novel approach and innovative perspective in the analysis of the industrial automation market. Comprehensive coverage of capital, portable, process, construction, industrial, and special purpose machinery across the manufacturing sector and distinctive analysis about the installed base, consumables, replacement, USP-feature-application matrix make us a pioneering voice in the industry. We are preferred associates with established as well as budding industry stakeholders, and channel partners when it comes to sustaining, growing, and identifying new revenue prospects.