According to a recent report by Future Market Insights (FMI), the premium wine cooler market is expected to surpass a valuation of US$ 1,215.9 Mn at a CAGR of over 6.3% through 2031.
Homes are today becoming more connected than ever before. Consumers are increasingly investing in homes that incorporate smart electronics such as connected refrigeration systems. Thus, with changing preferences, players are increasingly focusing on altering their promotional strategies.
Besides focusing on promotional activities, retailers selling connected devices are adopting diverse strategies that will allow them to achieve more than just converting sales. This includes establishment of know-how counters to train or educate shoppers regarding product use, and benefits. These factors are expected to facilitate the market growth in the near future.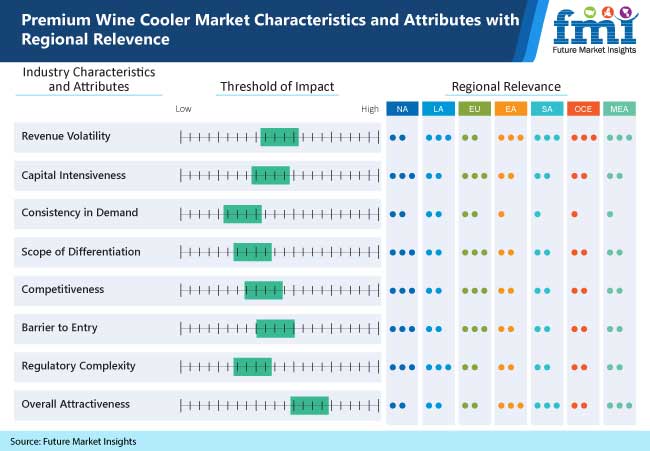 Demographic generations like millennials and Gen X are likely to largely influence the market growth in the coming years mainly on account of two primary reasons, which include growth in wine consumption and high demand for smart tech gadgets and connected storage units in residential sectors.
Apart from this, the commercial sector is also likely to reflect prominent sales opportunities due to rapidly growing demand for premium sleek and unique wine storage appliances that better match the aesthetics and ambience of the space along with incorporating better features.
Key Takeaways from the Premium Wine Coolers Market Study:
Freestanding premium wine coolers are expected to hold a leading revenue share of 57.2% in 2021 due to its portability nature.
In terms of bottle type, premium wine coolers with a capacity of 51 to 300 bottles is comparatively more. The category holds a notable share of 19.3% during 2021.
The U.S. is expected to hold a noteworthy value share of 84.2% in North America owing to the rapid upsurge of wine consumption at home as well as in commercial sectors thus escalating the need for wine storage units.
India is a key market in South Asia reflecting a CAGR of 26.1% as smart homes are increasingly gaining popularity.
France is further expected to open up new sales opportunities as consumption of wine is quite prominent in the region.
Impact of COVID-19 on the Market
The covid-19 outbreak resulted into a temporary downswing across different sectors and regions. The economic downswing caused a tremendous impact on both supply as well as demand side in the market.
Apart from this, it also largely impacted consumers purchasing habits as a large proportion of consumers shifted from free-spending towards mindful spending thus impacting the demand for premium wine coolers to some extent.
The outbreak of COVID-19 worldwide signaled an unprecedented disruption of commerce. Post-pandemic, consumers have adopted short-term behaviors that in some cases have turned permanent. Transition to digital was the most profound behavioral change that was observed post-pandemic. Retail categories like consumer electronics and entertainment are some of the few sectors that have been significantly disrupted by digital over the past few decades.
Competitive Landscape
The premium wine coolers market is characterized as highly competitive with large number of well-established as well as regional and local players operating in the market. Promoting and focusing more on product development is likely to help capitalize the demand in the market. Besides this, enhancing penetration in the developing regions is likely to scale up revenue generation.
Companies operating in the premium wine cooler market are aiming at strategic collaborations and partnerships with other manufacturers to expand their product portfolio to address the demand of an expanding pool of consumers. Besides this, few of the players in the market are also aggressively focused on enhancing their penetration through active mergers and acquisitions. Middleby Corporation is one such example.
Market Segmentation:
By Installation Type
Freestanding Type
Countertop
Built-In
By Bottle Type
Less than 10
10 to 30
31 to 50
51 to 300
301 and Above
By Temperature Type
Double Zones
Single Zones
Triple Zones
Others
By End Use
Residential/Households
Commercial

Retail and Specialty Stores
Food and Beverage Processing
Hotels and Restaurants
Others
Technology
Compressor Based
Thermoelectric Based
By Sales Channel
Direct Sales
Wholesalers/Distributors/Clubs
Departmental Stores
Hypermarkets/Supermarkets/Mass Merchandisers