Super Absorbent Polymers (SAP) Market research report categorizes the global market by Type (Sodium Polyacrylate, Polyacrylate/Polyacrylamide, Copolymers), Application (Personal Hygiene, Agriculture, Medical, Industrial, Packaging, Construction, Oil & Gas) & Geography.The growing awareness of healthcare & personal hygiene among people across the world is one of the leading factors enabling growth in the global super absorbent polymer (SAP) market. As per Future Market Insights (FMI) analysis, the market is expected to expand at 4.8% CAGR between 2021 and 2031.
The chemical industry has registered significant growth in past few years and growth is expected to be continue over the near future. Owing to the increasing applications of super absorbent polymers in medical sector and agriculture sector, the SAP market is expected to reach a valuation of US$ 9.18 Bn in 2021.
Growing demand from the application of the super absorbent polymer in chemical sector will drive growth through 2021-2031. North America, Europe, and East Asia are the key markets for super absorbent polymers. Of these, East Asia is expected to remain dominant, accounting for over 28.5% of the market by 2031.
Request a Complete TOC of this Report with figures: https://www.futuremarketinsights.com/toc/rep-gb-429
Super absorbent polymers or otherwise known as hydrogels are high weight, loosely cross linked polymer chains that are formed through the process of polymerization of acrylic acid and sodium acrylate/acrylamide. Due to the excellent property of absorbing, they are specifically used in the feminine hygienic items and diapers. Besides this, they are used in construction, packaging, and in the agricultural sector to help retain moisture in the soil.
Key Takeaways from Super Absorbent Polymers Market Study
Super absorbent polymers sales will continue rising in the U.S., which is expected to account for over 80% of the North America market in 2021
Sales in the U.K. is expected to increase by 3.7% in 2021, thanks to increase in use in disposable diapers, adult incontinence products, and other applications.
Germany, France, and Russia will remain lucrative pockets for sales within Europe.
China will account for maximum SAP sales in East Asia, while Japan and South Korea will exhibit gradual rise in demand.
Application in disposable diapers is expected account for 76.1% SAP sales in 2021.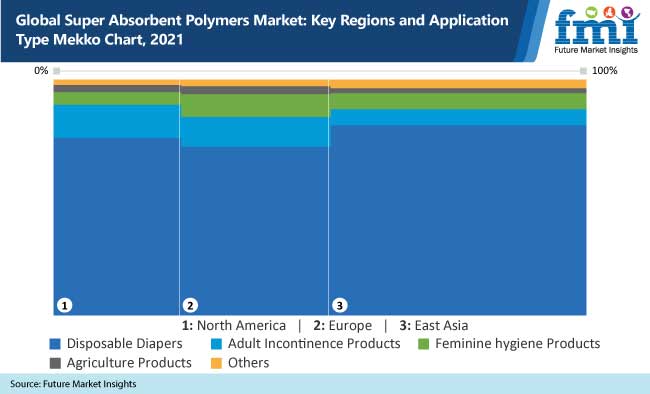 "Increasing awareness regarding healthcare & personal hygiene products is expected to spur to super absorbent polymer sales," said a lead analyst at FMI.
Super Absorbent Polymers Market: Participant Insights
Key manufacturers in the Super Absorbent Polymers market, like Nippon Shokubai Co., Ltd., BASF SE, Evonik Industries AG, Sanyo Chemicals Industries, Ltd., Yixing Danson Technology, LG Chemicals Ltd, Sumitomo Seika Chemicals Co. Ltd., Kao Corporation. In order to gain competitive edge, they are focusing on strengthening their product portfolio and expanding their market footprint through acquisition of smaller companies in the market.
Download Your Sample Copy of This Report: https://www.futuremarketinsights.com/reports/sample/rep-gb-429
Super Absorbent Polymers Market by Category
By Product Type
Sodium Polyacrylate
Polyacrylamide Copolymer
Others
By Application Type
Disposable diapers
Adult Incontinence Products
Feminine Hygiene Products
Agriculture Products
Others
 By Region
North America
Latin America
Europe
South Asia & Pacific
East Asia
Middle East & Africa (MEA)
Want to Know More?
Future Market Insights has published a market research report on the Super Absorbent Polymers market that contains global analysis for 2016–2020 and opportunity assessment for 2021–2031. The report provides insightful analysis of the super absorbent polymers market through three different segments- by product type, by application and region.
Ask us your Any Queries About this Report: https://www.futuremarketinsights.com/askus/rep-gb-429
About Chemicals & Materials division of FMI
The Chemicals & Materials division at FMI offers distinct and pin-point analysis about the chemicals & materials industry. Coverage of the chemicals and materials  market extends from commodity, bulk, specialty and petrochemicals to advanced materials, composites, and nanotechnology. The team also puts special emphasis on 'green alternatives', recycling and renewable technology developments, and supply-demand trade assessment. Our research studies are widely referred by chemical manufacturers, research institutions, channel partners, and government bodies for developing – 'The Way Forward'.