Increase Prevalence of Pelvic Floor Disorders is expected to Fuel the Growth of the Market of its Pelvic Floor Diagnostic Testing Services
Pelvic floor disorders are the significant public health issue irrespective of age or gender. It consists of a group of disorders resulting in pelvic pain and discomfort. Symptoms associated with the disorder include constipation, alteration in bowel movements, frequent urination, muscle spasms and pain in the pelvic region. The disorder can happen to anyone and delaying its diagnosis may impair the quality of life. There are millions of patients suffering from pelvic floor disorders globally. 1 out of every 5 Americans suffers some sort of pelvic dysfunction at some time in their life.
Get Sample of the Report : https://www.futuremarketinsights.com/reports/sample/rep-gb-6728
Various causes are associated with the disorder such as infection, childbirth, poor posture, and trauma, among others. There occur three most common definable conditions for the pelvic floor dysfunction including urinary incontinence, anal incontinence and pelvic organ prolapse. Urinary incontinence followed by faecal incontinence is the most common pelvic floor disorder. The disorder usually affects women more than men as almost one quarter of women face pelvic floor disorder according to the National Institute of Health. The condition gets more common when the person becomes older. The exact prevalence of this disorder is unknown but its impact on the healthcare system is substantial.
As the pelvic pain is related to the reproductive system, urinary tract and the digestive system, consultation of more than one doctor is required to diagnose the disorder in a proper way. The treatment of pelvic floor dysfunction can be done by a variety of experts, such as urogynecologists, urologists, colorectal surgeons, gastroenterologists and physical therapists.
Diagnostic Testing for Pelvic Floor Disorders
Diagnosis of the disorder begins by observing the medical history of patient and visual inspection further including various tests such as anal manometry, cystoscopy, dynamic defecography, endoanal ultrasound, urodynamic, electromyography, pelvic MRI, etc. for evaluating the capability of pelvic muscles. More than one test is usually performed to diagnose the disorder. Ultrasound and MRI provide the real-time diagnostic testing for the evaluation of pelvic floor dysfunction.
Pelvic Floor Diagnostic Testing Market Assessment by Procedure Type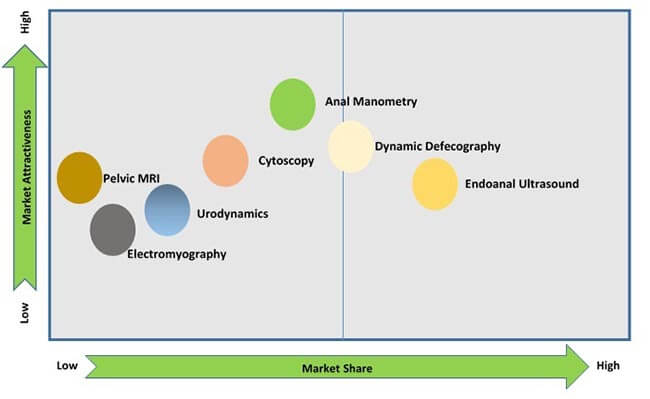 Factors Driving and Restraining the Pelvic Floor Diagnostic Testing Market
Various factors are associated with the growth of the pelvic floor diagnostic testing market such as rising prevalence of the disease, availability of advanced diagnostic instruments, increasing geriatric population as well as growing awareness. Along with this, launch of several pelvic health care programs by the government to spread awareness about the disorder and the opening of specialty diagnostic and treatment facilities also contribute to the market growth. The major factors hampering the growth of the market are under diagnosis of the disease due to the associated social taboo with the disorder and lack of proper diagnostic facilities in most of the developing and under-developed countries.
Developments in the Pelvic Floor Diagnostic Testing Services
Governmental and non-governmental organizations are playing an important role to spread awareness regarding pelvic care and the opening of specialized diagnostic and treatment centers. Some of them include Urogynecology and Pelvic Health Institute in India in 2015, Multidisciplinary Diagnostic and Treatment Center for Pelvic Floor Issues by Memorial Hermann Memorial City Medical Center in Houston, U.S. in 2016, and opening of Florida Institute for Pelvic Health and Incontinence by Capital Regional Medical Center in 2015.
Service Providers in the Pelvic Floor Diagnostic Testing Market
Hospitals followed by diagnostics laboratories segments hold most of the share in the pelvic floor diagnostic testing services market. Hospitals have started opening specialized departments for pelvic floor disorders. Large number of diagnostic procedures were conducted in the past in hospitals owing to the availability for a wide range of diagnostic testing services.
Regional Outlook
North America represents a significant share in the pelvic floor diagnostic testing service market owing to the growing geriatric population, good medical infrastructure facilities, favourable reimbursement scenario as well as awareness among the population about the disorder. Likewise, Europe with EU5 has a high share in the market due to high prevalence of the disease and availability of large number of service providers in the region. APEJ is anticipated to have significant growth in the global pelvic floor diagnostic testing service market with the improvement in diagnostic services as well as increasing medical tourism in the region. Eastern Europe followed by the Middle East & Africa is expected to represent sluggish growth over the forecast period due to the lack of medical infrastructure facilities compared to the overall population.Competition Outlook
The market for pelvic floor diagnostic testing includes the services provided by several hospitals as well as diagnostic centers. Some of them include Oxford Pelvic Center, US San Diego Health, Pelvic Floor Center and Colon & Rectal Surgery, Center of Diagnostic Imaging, Interdisciplinary Pelvic Floor Center, etc.
Ask For Regional Data : https://www.futuremarketinsights.com/ask-regional/rep-gb-6728
Examples of some of the testing equipment manufacturers in the market include Medtronic, Olympus Corporation, Laborie, Balmer Medical SA, HALO Medical Technologies, NIHON KOHDEN, etc.
Small-Scale Service Providers:-
Interdisciplinary Pelvic Floor Center, Germany
Urogynecology and Pelvic Health Institute, India
CAMC Health System, Inc., U.S.
Shanghai Jiao Tong University Urinary Incontinence and Pelvic Floor Reconstruction Center, China
Harley Street Medical Centre, Abu Dhabi
Centre for Pelvic Floor Competence, Canada
Urology Hospital (Pty) Ltd, South Africa
Medium-Scale Service Providers:-
Oxford Pelvic Floor Centre, U.K.
US San Diego Health, U.S.
Women's Health & Research Institute of Australia
Large-Scale Service Providers:-
Pelvic Floor Center and Colon & Rectal Surgery, U.S.
Center for Diagnostic Imaging, U.S.
Cleveland Clinic, U.S.
Key Data Points Covered in Report
The report covers exhaustive analysis on:
Pelvic Floor Diagnostic Testing Market by procedure type, end user and region
Regional level market analysis of North America, Latin America, Europe, Asia Pacific Excluding China & Japan, China, Japan, Middle East & Africa by procedure type, end use segments and country
Pelvic Floor Diagnostic Testing Market Dynamics & Opportunity Assessment
Historical Actual Market Size, 2013 – 2017
Pelvic Floor Diagnostic Testing Market Size & Forecast 2018 – 2028
Pelvic Floor Diagnostic Testing Current Trends/Issues/Challenges
Competition & Companies involved
Research Methodology
The market sizing of pelvic floor diagnostic testing will be done by procedure-based triangulation approach. The demand-side approach will be followed to assess the actual market size of pelvic floor diagnostic testing. Secondary research will be used in the initial phase to identify the feasibility of the target services and its respective segments in end-use facilities and the future impact of new technologies. Each piece of information will be eventually analyzed during the entire research project, which builds a strong base for the primary research information.
Primary research participants include demand-side respondents such as laboratory managers, procurement managers, hospitals, diagnostic service centers as well as key opinion leaders in addition to supply-side respondents such as equipment manufacturers who provide valuable insights on trends, research application of products and technologies, purchasing patterns, services offered and associated pricing.
Market Segmentation
By Procedure Type
Anal Manometry
Cystoscopy
Dynamic Defecography
Endoanal Ultrasound
Urodynamics
Electromyography
Pelvic MRI
By End User
Hospitals
Specialized Clinics
Diagnostic Centers
By Region
North America
Latin America
Europe
Asia Pacific Excluding Japan & China
China
Japan
Middle East & Africa
Report Highlights:
Shifting industry dynamics
In-depth market segmentation
Historical, current and projected industry size, recent industry trends
Key competition landscape, market structure, regulatory scenario
Regional healthcare outlook and consumer healthcare expenditure
Key Regulations
Strategies for key players and service offerings, channel strategies, regional foot print, channel footprint
Potential and niche segments/regions exhibiting promising growth
A neutral perspective towards market performance in terms of value and volume