The global red berries market is anticipated to expand at a CAGR of over 3.0% in terms of value over 2016–2026. Increasing demand for natural ingredients, coupled with adoption of red berries as an ingredient in various food application, such as beverages, bakery & snacks, dairy products and others, is fueling market growth across the globe. Currently, prominent trends witnessed in the global red berries market are rising awareness among consumers and launch of new product offerings by key players.
Beverages will remain the largest application segment for red berries, accounting for 5.3 Mn tonnes of demand in 2016. This is an increase of over 3.5% over 2015. Dairy products, the second largest application segment will grow by 2.8%.
Red berries are gaining popularity as a natural ingredient, with global demand growing by 1.9% volume in 2016. The all-pervasive, 'health and wellness' trend will continue to influence demand positively, as global revenues are expected to surpass US$ 18.5 Mn in 2016, up from US$ 18.1 Mn in 2015.
By berry type, grapes will continue to witness highest demand from end-use industries, growing by 3.2% in 2016. This will represent a market value of over US$ 8.9 Mn.
Request a report sample to obtain authentic analysis and comprehensive market insights at- https://www.futuremarketinsights.com/reports/sample/rep-gb-1648
Long-term outlook: FMI maintains a positive long-term outlook on the global red berries market, estimating global revenues projected to reach US$ 24.9 Mn by 2026.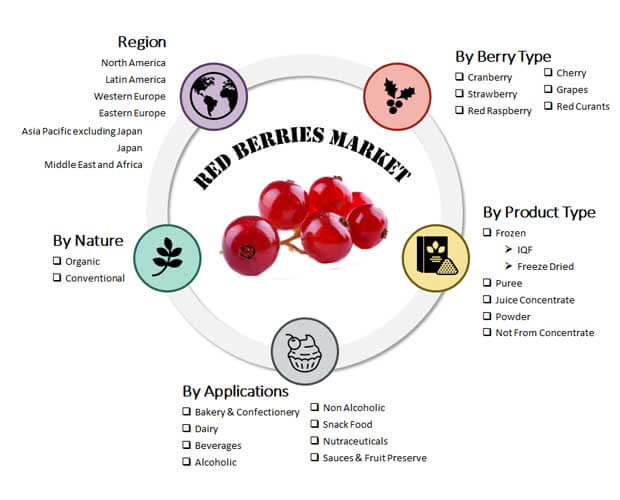 By product type, juice concentrates will maintain their dominance in 2016 as well, representing over 34.3% revenue share of the market. Juice concentrates volume will grow by 3.6% in 2016, and total US$ 6.4 million in revenues.
Western Europe, the largest market for red berries, will increase its revenue share of the market to 25.5%. North America the second largest market will register impressive growth in 2016.
For Information On The Research Approach Used In The Report, Ask Analyst @ https://www.futuremarketinsights.com/ask-question/rep-gb-1648
Competitive Landscape
Some of the key players identified in the global red berries market Ocean Spray Cranberry Inc., Döhler Group, SunOpta, Inc., Hortex Group, Milne Fruit Products, Fruit d'Or, Townsend Farms, Inc., Kerr Concentrates Inc., Maberry & Maberry Berry Associates, Pacific Coast Fruit Products Ltd., NorthWest Berry Co-op and Berryhill Foods Inc. are some of the key players in this market. Leading companies are focusing on expanding their production capacity and launching new product offerings to meet the growing demand for red berries. Developing economies, where there is rapid growth in demand for natural ingredients, are expected to remain a key target market for red berry manufacturers.
Key Segments Covered
By Berry Type
Cranberry
Strawberry
Red Raspberry
Cherry
Grapes
Redcurrants
By Application
Dairy
Bakery & Confectionery
Beverages
Snack Food
Nutraceuticals
Sauces & Fruit Preserve
By Product Type
Frozen
Puree
Juice Concentrate
Powder
Not From Concentrate
By Nature
By End Use
Key Regions/Countries Covered
North America
Latin America
Western Europe
Eastern Europe
Asia Pacific Excluding Japan (APEJ)
Middle East & Africa (MEA)
Japan
Contact Sales for Further Assistance in Purchasing this Report- https://www.futuremarketinsights.com/checkout/1648
Table Of Content
1.Executive Summary
2.Assumptions and Acronyms
3.Research Methodology
4.Global Red Berries Market Overview
4.1.Introduction
4.2.Market Taxonomy
4.3.Market Dynamics
4.3.1.Drivers
4.3.2.Restraints
4.3.3.Trends
5.Value Chain Analysis
5.1.Introduction
5.2.Trend Shift in Value Chain
5.3.Integration within Value Chain
5.4.Supply Chain Participants
5.5.Frozen Fruits Value Chain
5.6.Cold Chain Components
6.Red Berries Production Process
7.International Code of Practice For Packaging of Fresh Fruits
8.Key Regulations
9.Production Overview- Berries Type
10.Global Red Berries Consumption Value Overview
11.Consumption Overview By Nature