According to a recent report by Future Market Insights (FMI), the maternity apparels market is expected to surpass a valuation of US$ 20.4 Bn, expanding at a CAGR of 6.7% through 2031.
Sales of maternity apparels has gained momentum amid social media influence, celebrity endorsements, and introduction of new fashion trends through magazines and television.
Clothing brands such as Zara has joined the growing list of high street and online retailers attempting to capitalize on increasing demand for maternity apparels. For instance, Zara recently launched its first maternity collection comprising 25 dedicated maternity items such as sweaters, knitted dresses, jeans and overall. These products can be styled with other clothing offered by Zara which are either bump-friendly, oversized or made from stretchy materials.
The COVID-19 pandemic resulted dampened sales of maternity apparels to an extent. Demand for maternity clothing, which typically targeted working professionals in metropolitan workplaces and/or those getting ready for a big night out – came to a halt, with lockdowns implemented around the world and pregnant women increasingly preferring loungewear in place of high street maternity fashion trends.
Customer spending on clothing dropped by more than half in major markets such as the U.S., the U.K., and Germany. Maternity apparel platforms faced dwindling demand as pregnant women began working from home and events like weddings and celebrations were either postponed, cancelled, or held virtually. However, with resumption of trade activities and the introduction of new retail channels for maternity clothing, sales are expected to recover over the forecast period.
Besides this, increasing preference for luxury maternity apparel among millennial moms is ushering product developments in the maternity apparels market. The influx of high street maternity styles is compelling brands and specialist retailers to step-up their game and send a clear message about the value in investing in more expensive, technical maternity and nursing clothing.
Maternity Apparels Market Outlook 2016-2020 Compared to 2021-2031 Forecast
Increasing focus on pregnancy fashion and evolving fashion trends are expected to be key factors driving sales of maternity apparel across the globe. Considering this, FMI has forecast the maternity apparels market to expand at a 6.7% CAGR between 2021 and 2031 in comparison to the 3.5% CAGR registered during 2016-2020.
Previously, maternity clothes were worn to conceal the baby bump, regardless of the fit. Women have recently become more aware regarding how size of clothes complement their body type. Increasing fashion awareness among new mothers has resulted in high demand for office and casual outerwear. Even during pregnancy, modern mothers are self-conscious about their physical appearance.  There by, contributing to the growth of the market.
Growing influence of social media, celebrity endorsement, and presentation of fashion trends in magazines and television are compelling manufacturers to introduce new styles and design. In addition to this, brands are focusing on introducing maternity apparel suitable for various occasions. Apart from this, venue-specific fashion trends are gaining traction, which is expected to augment growth of the maternity apparels market in the forthcoming years.
Brands are increasing their efforts to expand their consumer base, whether it is through e-commerce sites, offering discounts, celebrity endorsements, or customization of fashion to suit individual needs. This is expected to continue driving sales of maternity apparels.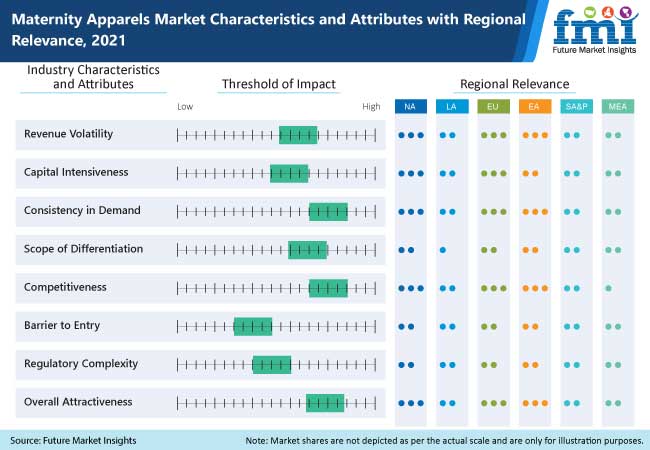 Key Takeaways:
Sales of outerwear maternity apparel are expected to account for 76.2% of the total market share in 2021.
Based on material type, the cotton segment is forecast to account for 43.2% of the total maternity apparels market share in 2021.
In terms of price range, the below US$ 100 segment is projected to hold the highest market share in 2021, at around 60.3%.
Sales of maternity apparels through online channels are slated to account for 29.3% of the total maternity apparels market share in 2021.
The U.S. is anticipated to hold 79.2% of the North America maternity apparels market share in 2021.
Australia is forecast to account for over 51.7% of the Oceania market share in 2021.
India will emerge as an lucrative market, holding 31.7% of the South Aisa maternity apparels market share over the forecast period.
Japan and South Korea will account for 33.7% and 23.6% of the East Asia market share respectively.
Competitive Landscape
Leading players operating in the maternity apparels market are Adidas AG, Brainbees Solutions Pvt. Ltd., Hanesbrands Inc., H & M Hennes & Mauritz AB, J. C. Penney Co. Inc., Nike Inc., Seraphine Ltd, The Gap Inc., Tytex AS among others.
Leading manufacturers of maternity apparels are focusing on promotional strategies, advertisements, and new product launches to expand their global footprint and improve sales. Players are also investing in strategic collaborations to gain a competitive edge in the market. For instance:
In Oct 2020, Maternity clothing start-up Momsoon announced its partnership with Monte Carlo to launch a maternity wear winter collection. Monte Carlo is producing maternity wear designed by Momsoon for online sale as part of the partnership.