Building Automation System Market – Key Research Findings
The global building automation system market size in 2018 was ~US$ 36 Bn.
The building automation system market is expected to grow at a CAGR of ~8% during the forecast period of 2019-2029.
Ever-growing energy consumption in global economies to pave strong growth prospects for stakeholders involved in the building automation system market.
Collectively, North America and Europe are set to account for 3/5th of the revenue shares in the building automation system industry by the end of 2029.

Primary factors responsible for the strong market outlook for the building automation system in Europe are, the presence of a large number of service providers, high awareness for the installation of building automation systems, and government regulation to curb energy consumption.

The commercial construction establishment is foreseen to remain prominent application area to target market players involved in the building automation system.

Building automation systems have been receiving great attention due to their potential for reducing energy consumption and facilitating building operations, monitoring, and maintenance while improving occupants' satisfaction. Therefore, the aforementioned parameters fit perfectly to commercial buildings, suggesting substantial growth opportunities for the building automation system for the commercial segment.
Key Factors Shaping the Building Automation System Market
A Paradigm Shift towards Building Automation System
A building automation system aims at automating tasks in technologically-enabled environments, unifying several mechanical and electrical devices in a distributed manner employing underlying control networks. Building automation systems are predominantly deployed in commercial infrastructures such as malls, hotels, and other enterprise establishments or even in the domestic domain (residential). Furthermore, building automation systems are not used to their full potential to lower energy consumption in buildings. Optimising potential of the building automation system is set to provide lucrative opportunities for the construction value chain to create new prospects for the energy management of buildings and significantly lower building operation costs.
Download Sample Copy with TOC: https://www.futuremarketinsights.com/reports/sample/rep-gb-2150
Sustainable infrastructure is an integral part of the smart cities mission. As cities expand, it is imperative to invest in smart buildings and housing to enable cohesive development in the future.
Energy-Efficient Buildings – A Prime Market Mover
As per the primary responses, building owners who are likely to install building automation systems in the near term, are looking to reduce the energy consumption, improve tenant comfort, security, and productivity (airflow, lighting, etc.), comply ever-changing regulations, and reducing maintenance and life cycle costs.
Rising smart buildings and smart factory projects in countries such as India, Thailand, and Singapore, are driving the investment in building automation systems. Furthermore, the government's initiatives have led to the deployment of building automation systems for energy efficiency solutions. 
Socio-Economic Trends Expected to Drive the Market
With the increasing susceptibility to power outages by electricity grid in countries of South Asia, building and property owners are investing in building automation system that subsequently reduces the energy costs. The revolutionary building automation system delivers self-sufficiency, improving the overall operational efficiency, and translating to positive market growth.
In the long run, the growth of the building automation systems market is anticipated to be driven by socio-economic trends, including the rapid population growth, rising affluent middle-class population, and sprawling urbanisation in India and other South Asian countries. Rising per capita disposable income and expenditure in these regions are the crucial factors expected to drive the sales of building automation system products and solutions, which in turn, is expected to boost the building automation system market. Consequently, rising disposable income in countries to offer substantial growth avenues for the building automation system market over the forecast period.
Europe to Remain Prominent in the Building Automation System Market
As per the analysis, costs for equipping building with building automation system has decreased drastically, consequently promoting the robust sales of hardware and software of building automation systems. Moving ahead, focus on France and the U.K. are the ascertained conclusions that will certainly boost the market growth of building automation systems.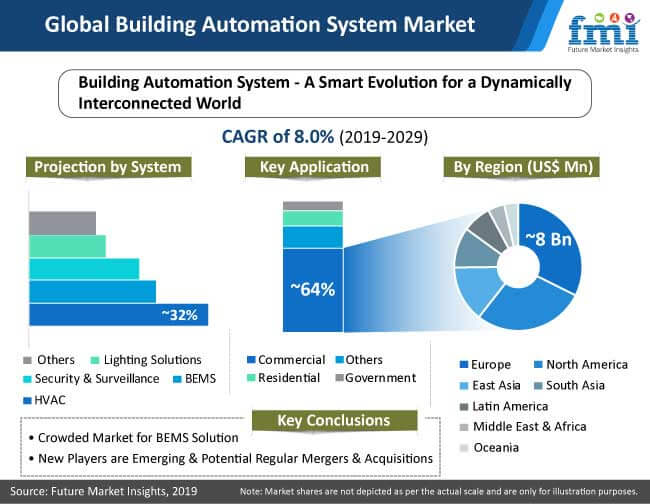 Building Automation System Market Structure Analysis
The global building automation system market represents a fairly consolidated competition landscape, where several players are involved in M&A (mergers & acquisitions) activities and poised to continue their inorganic strategies.
Top players account for significant market size with a market share of ~60% because these conventional top actors in the building automation system market operate on closed-source software and building automation systems.
Prominent providers of building automation systems are currently prioritizing commercial establishments to target for the market development in Europe, North America, and East Asia.
Some prominent new companies, like Google NEST and Apple, are entering into the building automation system market and focusing on the residential side of the market and less on complex building systems. In addition, small players are offering simple open-source energy management solutions; thereby, allowing their products to be implemented more easily in larger buildings.