Lead Acid Battery – Key Research Findings
The global lead acid battery market size in 2018 was ~US$ 64 Bn.
The lead acid battery market is expected to grow at a CAGR of ~5% during the forecast period of 2019-2029.
Increasing demand for AGM batteries has been recently driving the sales of lead acid batteries.
Collectively, North America and APEJ are likely to account for half of the revenue shares in lead acid battery industry by the end of 2029.

APEJ, attributing to the rising production of electric vehicles, will continue to be a prominent regional market for lead acid battery manufacturers.

The transportation industry is expected to remain a prominent application area to invest in, for lead acid battery market players.

The transportation industry has witnessed significant growth over the recent past.
Noteworthy application potential of lead acid battery has been identified in commercial and residential purposes.
Key Factors Shaping the Lead Acid Battery Market
Recycling Lead Acid Batteries
Companies are recycling drained batteries to protect the environment from its harmful effects. Environmental Protection Agency has created the Universal Waste Regulation to establish improved recycling process for all types of drained batteries.
According to the Environmental Protection Agency, U.S., lead acid battery recyclers separate various components of the drained battery by crushing it into nickel-sized pieces. The plastic used in Lead Acid batteries is mostly polypropylene, which can be recycled. The lead in batteries is used for making new batteries. The Environmental Protection Agency estimates that ~80% of the plastic and lead in any new battery one purchase is recycled.
For instance, Battery Recyclers of America, a prominent recycling industry, has recycled 15,031,165 pounds of battery waste till date.
Increasing Demand for AGM Batteries
AGM batteries are gaining the demand in the lead acid battery market owing to their features such as low internal resistance, better plate area, maintenance free, and long service life. AGM design offers superior starting power. AGM batteries are lighter than the flooded lead acid batteries and provide greater electrical reliability. AGM offers higher voltage characteristics during discharge and possesses the ability to recharge much faster. AGM batteries have high efficiency in discharging as well as recharging.
AGM batteries are preferred in the automobile industry, preferably in upscale motorcycles. Due to the sealed design, AGM battery reduces acid spilling, lowers the weight and allows installation at odd angles. AGM batteries are also used in robotic applications and motor, and marine applications due to their outstanding performance in cold weather.
Download Sample Copy:
https://www.futuremarketinsights.com/reports/sample/rep-gb-54
Rising Number of Contracts and Partnerships
Increasing the production of electric vehicles and the rising number of vehicles on road are driving new orders and contracts related to lead-acid batteries. Key end-use industries that are targeted are transportation, commercial, residential, and power generation industries. Manufacturers are making long-term contracts with key players in the automotive industry for the supply of its transportation batteries.
Lead acid battery manufacturers focus on making alliances with several distributors with an objective of expanding their global footprints. Companies also emphasize on making long-term contracts by investing in large-scale projects.
In January 2017, Furukawa Battery Co. Ltd, a subsidiary of Furukawa Electric Co., signed an agreement with I-WIND (Inter Far East Wind International Co., Ltd.) for the supply of ultra battery, which is utilized in the wind power generation project.
For instance, in 2016, NorthStar Battery Company LLC, signed a US$ 500 Mn contract with Daimler Trucks, for the supply of ultra-high performance pure lead AGM batteries
Increasing Demand for E-bikes and Electric Vehicles
Increasing demand for electric bikes in China and other countries of the APEJ region is driving the demand for Lead Acid batteries. Moreover, four-wheeled electric vehicles powered by Lead Acid batteries have also tremendously increased over the years. Similarly, in India, the demand for electric vehicles is expected to increase during the forecast period, which in turn, will support the demand for Lead Acid batteries in the APEJ region. In India, Lead Acid batteries are used for several applications in the automotive sector, followed by household inverters and decentralized electrification systems.
Strict emission norms and increasing support from the government is boosting the demand for electric vehicles, which in turn, will drive the lead acid battery market.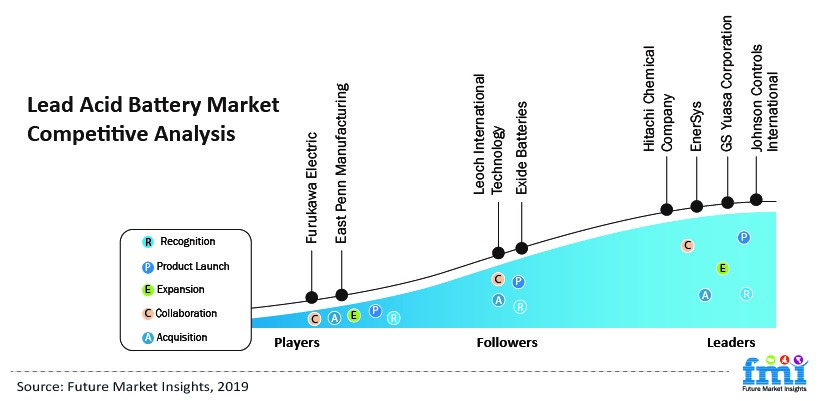 LEAD ACID BATTERY MARKET STRUCTURE ANALYSIS
The global lead acid battery market represents a fairly consolidated competition landscape, where a majority of key players maintain their strategic focus on the development of solid distribution partnerships and joint ventures, targeting a firmer global footprint.
The lead acid battery market has been relatively moderate in size, which remains a key factor for its dynamic competitive nature.
Prominent manufacturers of lead acid battery are currently prioritizing R&D and new product launches in North America, Europe, and China.
Portfolio extension is also identified to remain one of the key developmental strategies adopted by manufacturers of lead acid battery.
For a stronger foothold in target markets, lead acid battery manufacturers will continue to rely on inorganic strategies, such as mergers and acquisitions.
Deeper understanding of the market trends and preferential shifts of end-use segments across various regions are likely to create a bottleneck for prominent players, looking forward to untapped opportunities in the lead acid battery market.