In its latest report, Future Market Insights estimates global mud pumps market to surpass US$ 1.18 Bn by 2031, on the back of broader developments in oil & gas sector. The market will also be influenced by mushrooming of mid-sized companies, especially in North America.
For instance, EOG resources, a US company headquartered in Houston, has been extensively dabbling in the exploration of shale gas reserves. Its success was evidenced with an astounding 92% sales in Q3 of 2018 that too in a relatively low-price environment. The company has also been deploying its own drilling rigs and mud pump systems adding to its overall value.
Key Takeaways Of Mud Pumps Market Study
68% of mud pumps market revenue remains concentrated in three countries
Led by strong gains in the US, North America will maintain its position as regional powerhouse exhibiting 1.2X growth through 2031
Stringency in regulatory norms will boost uptake of electric pumps on back of their excellent operability and environmental friendliness
Triplex pumps continue to be preferred over duplex pumps; with 30% lower weight, they offer excellent mud displacement and smoother discharge
The top 10 players in the market are expected to hold more than 50% of the market share through 2031.
Request a Complete TOC of this Report with figures:
https://www.futuremarketinsights.com/toc/rep-gb-8990
"Enhancing efficiency points of mud pumps will be key focus area of manufacturers. This can be done by finding issues that threaten pump integrity and increase emissions such as excessive degradation of seals, valves and flanges", says the FMI Analyst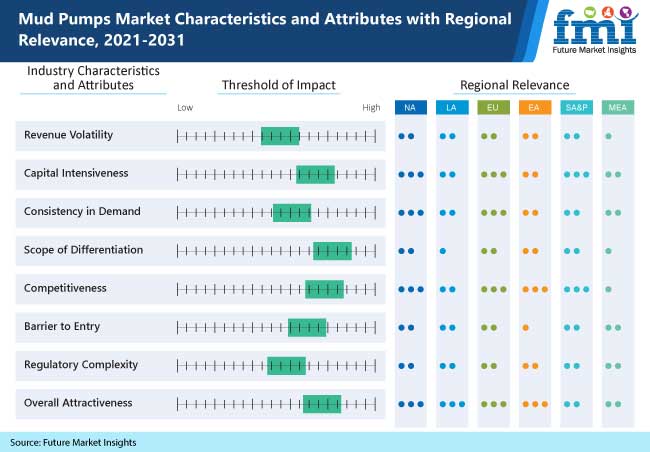 COVID-19 Temporarily Clouds Mud Pumps Outlook
Energy transitions are greatly impacting the oil and gas outlook. Rig operators and drilling equipment manufacturers are now looking at a scenario where investments towards ongoing supply must be balanced out against emission control. Fuel demand destruction is a huge challenge in the ongoing pandemic as well as a rapidly decarbonizing world.
Containment strategies that have been instituted in North America and Europe will have a less adverse effect on demand for oil as compared to China. With the discovery of new oil wells and reservoirs in China, an improving market landscape in China in the second quarter of 2020 will bode well for the deteriorating demand for oil and subsequently the mud pumps industry.
Supply wise, geopolitics have continued to be a wild card for the oil and gas industry. With supply gluts prevailing major OPEC nations have been forced to cut output. While supply will see a comfortable trajectory through 2025, oil and gas and the pumps industry will see a visible contraction through 2020 with recovery expected in 2021.
Ask us your Any Queries About this Report:
https://www.futuremarketinsights.com/askus/rep-gb-8990
Market Growth Characterized By Organic Strategies Undertaken By Key Players
Bigger players in the mud pumps market landscape have a huge advantage of continuous cash flow. Thus they are showing greater resiliency by channelizing their resources and acquiring shale players, oil and gas service companies without having to rely heavily on organic product portfolios.
Many are already investing in non-traditional markets with a very negligible impact on their bottom line. A significant number of market players are putting in almost 20% of their capital expenditures towards the setting up of on-shore and off-shore drilling equipment and mud pump systems. While this accrues to be a large chunk of investment, in actuality it is tantamount to just over 5% of its yearly revenues.
To Know More About Mud Pumps Market
A new market research report published by Future Market Insights (FMI) on the global mud pumps market report provides in-depth insights into the market demand trends and assessment of opportunities during the forecast period. The report analyses the mud pumps market through four different segments- product type, drive system, application, and region. The mud pumps market report also offers detailed analysis of pricing analysis by different product type and demand across end-use industry.
Explore wide-ranging Coverage of FMI's Industrial Automation Market Insights Landscape
Downhole Tractor Market – 2021 Analysis and Review: Downhole Tractor Market by Application – Well Intervention, Fishing, Seismology, and Water Borewell for 2021 – 2031
Marine Radar Market – 2021 Analysis and Review: Marine Radar Market by Product Type – X-Brand Radar and S-Brand Radar for 2021 – 2031
Scissor Lifts Market – 2021 Analysis and Review: Scissor Lifts Market by Ownership – AWP Rental Service Providers and End-Use Industries Lead for 2021-2031
About Industrial Automation Division at Future Market Insights
The Industrial Automation & Equipment division at FMI adopts a novel approach and innovative perspective in analyzing the global machinery and industrial automation market. A range of FMI's market research reports offer comprehensive coverage of capital, portable, process, construction, industrial, and special purpose machinery used across manufacturing sector. The team also conducts distinctive analysis about installed base, consumables, replacement, and USP-feature application matrix, making us a prominent voice of authority in the industry. We are associates of choice for established as well as budding industry