Demand for hydrological and meteorological equipment in India is set to grow at over 5% in 2021, with growing applications in disaster management likely to create opportunities. A new report by FMI opines demand for hydrological and meteorological in India to be worth nearly US$ 100 Mn by 2030-end.
Equipment is employed to measure various weather parameters such as barometer for air pressure, anemometers for wind speed, hygrometers for humidity, ceilometer for cloud cover, and pyrometer for net radiation. Owing to such wide range of applications, hydrological and meteorological equipment is gaining ground across various end-use industries such as marine and coastal security, research and academia. Furthermore, erratic weather patterns induced by climate change has rendered it imperative to map parameters such as wind direction, amount of precipitation and dry spells to enable meteorological organizations take corrective measures to offset adverse impacts, thereby heightening expansion prospects.
Historical and Future Outlook
Meteorological equipment is being employed widely across various research organizations as well as chemical manufacturing plants. The demand for such equipment has always been higher, as various chemicals are produced on distinct and precise parameters. Additionally, meteorological equipment is highly utilized by airports, gaining immense popularity in last few years.
Weather is an essential factor accountable for the proper functioning of all businesses. Companies are increasing their focus on predicting climatic conditions to minimize the risk of losses by taking actionable decisions, such as the aviation industry which use these devices to charter flight paths to save jet stream and avoid turbulence.
Key Takeaways
The hydrological and meteorological equipment market is expected to grow at a CAGR of 5.8% from 2020-2030.
Global revenues are set to reach nearly US$ 100 mn by the end of 2030
AT/RH sensors demand is growing due to their high accuracy and remote monitoring feature.
Research Institutes and Laboratories remain key revenue generators for manufacturers.
"Increasing climatic changes have created lucrative opportunities for the manufacturers as more end users are being compelled to make use of hydrological and meteorological equipments to get accurate weather predictions," says an FMI analyst.
COVID-19 Impact Analysis
The COVID-19 pandemic has disrupted industries all over the world, including the hydrological and meteorological equipment market in India. The sudden implementation of lockdown in India had brought production and import of raw materials to a standstill. The transport ban has also brought distribution and sales to a halt.
The market is expected to bounce back in 2021 due to the necessary need for weather prediction for disaster management, especially in the defense sector, where this information is critical.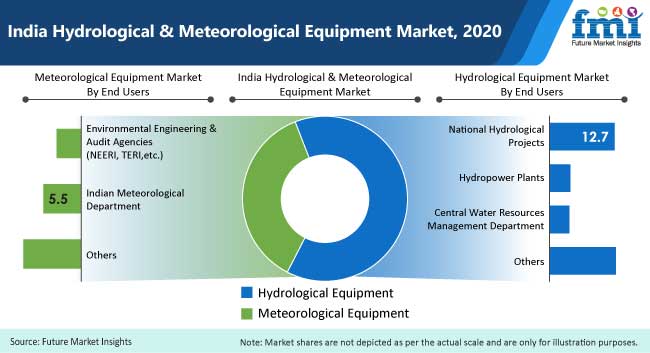 Ask An Analyst @ https://www.futuremarketinsights.com/ask-the-analyst/rep-gb-12898
Key Segments
Hydrological Equipment Type
Surface Water Velocity Sensors
Current Meters
Groundwater Level Logger
Radar Water Level Sensors
Compact Bubblers
Pressure Level Sensors
Multi-parameter Water Quality Sonde
Hydrological Equipment End Users
Central Water Resources Management Department
Irrigation Department
Agriculture
Water Utility Companies
Hydropower Plants
National Hydrological Projects
Research and Academia
Meteorological Equipment Type
Rain Gauge
Precipitation gauge Measurement
Disdrometer (Parsivel- laserWeather sensor)
Wind Speed and Direction Sensor
Ceilometers
AT/RH Sensor
Snow Depth Sensors
Meteorological Equipment End Users
Indian Meteorological Department
Space Research & Sciences (ISRO, NESAC)
Environmental Engineering & Audit Agencies (NEERI, TERI, etc.)
Marine & Costal Security
Research Institutes Laboratories (SASE, IISER, NIOT)
Valuable Insights into the India Hydrological and Meteorological Equipment Market Report
Future Market Insights (FMI) has presented a detailed analysis on the hydrological and meteorological equipment market along with an assessment for the years 2020-2030. In order to provide a comprehensive analysis, the market is divided into several segments.
On the basis of hydrological equipment type, the market is segmented into surface water velocity sensors, current meters, groundwater level logger, radar water level sensors, compact bubblers, pressure level sensors, multi-parameter water quality sonde, contact gauge, side looking doppler and data loggers. Based on the hydrological equipment end users, the market is divided into central water resources management department, irrigation department, agriculture, water utility companies, hydropower plants, national hydrological projects and research & academia.
Key Questions Answered in the Report