Specialty paper is used in packaging, printing and writing, and building and construction sectors. Their increasing application across diverse sectors can be attributed their moisture resistance, low-weight, waterproofing, cost-effective, and customizable characteristics. According to a Future Market Insights (FMI) report, the market is expected to surpass US$ 14.9 Bn in 2021, at a CAGR of 5.1% between 2021 and 2031.
Specialty paper is available as décor paper, kraft paper, thermal paper, and carbonless paper. Of these, its application for décor purposes accounts for maximum sales in the market. Also, specialty paper is non-reactant in nature which is suitable for food and beverage packaging.
In the past few years, specialty paper has gained immense popularity as it provides better aesthetics. The report foresees ample opportunities for manufacturers in the near future due to the rise in usage of the specialty paper in various sectors.
The expansion of the E-commerce industry means a rise in demand for packaging materials to ship products across the world. Specialty paper offers a wide range of packaging solutions to the e-commerce industry and to its logistics partners. Spurred by this, the demand for specialty papers is expected to surge in the near future.
Paper sourced from wood and wood pulp is considered to be environmentally-friendly, in comparison to plastic, which takes a longer period to decompose. Presence of untapped markets can provide lucrative opportunities for market players, especially those extending biodegradable offerings.
2015-2020 Specialty Paper Market Outlook Compared to 2021-2031 Forecast
Primarily driven by the growth of the packaging industry, the specialty paper market is anticipated to rise at 5.1% CAGR from 2021 to 2031 in comparison to the 3.1% CAGR registered during 2015 to 2020.
Specialty paper is not only used in printing and writing, but has a wide scope of use in various other end-use applications such as packaging and building and construction. The demand for specialty paper such as glassine paper is expected to surge in the coming years, thanks to higher focus on sustainability.
Specialty paper offers benefits such as non-reactant, temperature resistant, waterproof, attractive, colorful, and lightweight properties, which has helped it gain traction in the packaging industry. Also, the growing trend of decorative interiors has propelled the sales of specialty paper in the building and construction industry.
The molecular structure of specialty paper is effective in developing newer product variants customized to the requirement of end users. Also, nanomaterials in specialty papers make it suitable for several by-products from the paper itself. The larger untapped markets provide lucrative opportunities for all market players, through biodegradable options.
These factors are set to boost the specialty paper market in the short-term. The key trend that drives the specialty paper sales growth is its availability as per the requirement of end-users.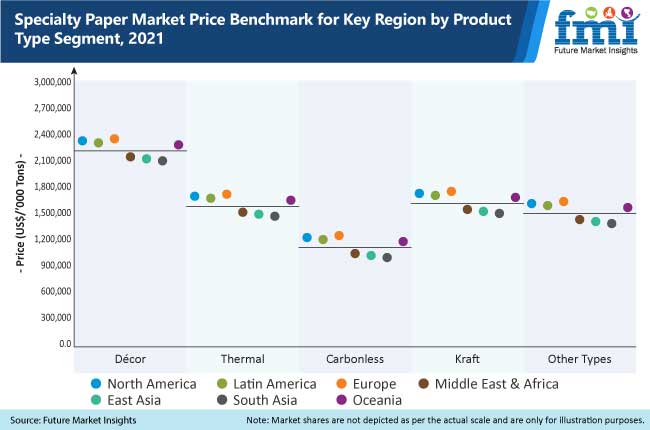 Key Takeaways from Specialty Paper Market
Décor paper is estimated to hold nearly 2/5th value share in the global market in 2021 and expected to expand by 240 bps by 2031 owing to increasing use in building and construction sector.
Kraft paper demand is expected to grow at 6.5% CAGR during 2021-2031. Increasing demand for sustainable bags and pouches will drive growth in the segment.
The U.S. will hold the lead in North America, accounting for more than 6 times the value share of Canada in 2021.
Germany, driven by the presence of leading market players will account for more than 22% of the Europe market will hold the lead in 2021.
Strong growth in the automotive and construction sectors will drive the China market, which is expected to account for more than 71% of the East Asia market value share by 2031.
Impact of COVID-19 on the Specialty Paper Market
The specialty paper market has been negatively impacted as sales slumped amid the COVID-19 pandemic. This can be attributed to restrictions imposed on operation and production activity in various end-use industries which directly affected market growth.
Disruptions in logistics and supply chains hampered market growth. The building and construction sector was also impacted by COVID-19 which contributed to the adverse impact on specialty paper.
Since the beginning of 2021, players operating in specialty paper market have tried to push sales by increasing production capacity while offering innovative products. Overall, the market for specialty paper is expected to rise at a faster pace during the latter part of 2021.
Who is Winning?
Tier 3 players in the specialty papers market hold 60-70% of the global value share. Global leaders in turn contribute to around 30-40% of the global market.
International Paper Co., Oji Holdings Corp., and UPM-Kymmene Oyj are the top players operating in the specialty paper market. Furthermore, Stora Enso Oyj, Nippon Paper Industries Co., Ltd, and Mondi plc. are some of the leading players in the specialty paper market.
Specialty Paper Market by CategoryBy Product Type:
Décor
Thermal
Carbonless
Kraft
Other types
By End-Use Application:
Printing and Writing
Packaging
Building and Construction
Industrial
Other Commercial End Use
By Region:
North America
Latin America
Europe
Middle East and Africa (MEA)
East Asia
South Asia
Oceania