The growing demand compact cranes in various industries such as steel industry, oil & gas, automotive sector, construction, and others is anticipated to drive the mini crane market. Application in glass glazing activities will create growth opportunities. According to a study by Future Market Insights, the global mini crane market is expected to expand at a CAGR of 6.0% during the forecast period from 2021 to 2031.
Among various types of mini cranes sold, spider cranes will remain highly sought-after. Their application is forecast to increase in various industries due to their compact size and impressive maneuverability. Construction sector is anticipated to remain one of the key end users.  Nearly 65% of mini cranes sold in 2021, will concentrate in this sector.
Mini cranes are considered ideal solutions for carrying materials during residential construction. It is their specialty to easily access edge of cliffs while navigating through courtyards, which bigger cranes cannot do. Within plants and factories, mini cranes are used for material lifting in places where bigger cranes cannot enter.
While demand from various industries will continue rising, maximum users are likely to prefer rented mini cranes than directly owned ones. This is seen as an ideal solution for cost-saving while getting the job done. With expansion of industries forecast to continue, despite hitting a roadblock amid pandemic outbreak, sales of mini cranes are expected to surge in the near future.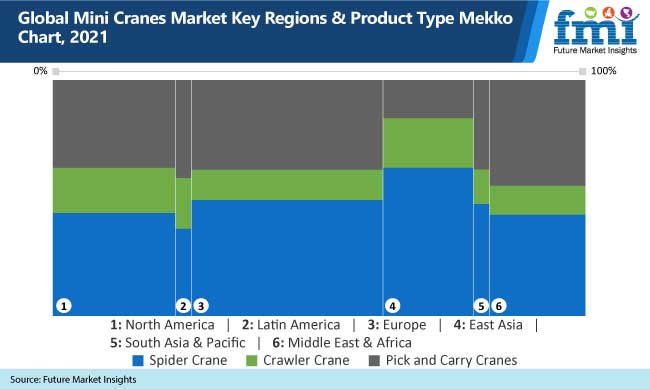 Key Takeaways of Global Mini Crane Market Study
Mini cranes sales will continue rising, enabling the market to reach a valuation of US$ 408.1 Mn in 2021
Government stimulus towards construction activities is presenting growth opportunities in the U.S., which will account for over 68% of sales in North America
Recovering industrial activities is favoring sales in the U.K., which will account for over one-fourth sales in Europe
Germany and France will emerge as other key markets for sale within Europe
Presence of some of the leading companies will seal Japan's dominance in East Asia
Request a Complete TOC of this Report with figures:
https://www.futuremarketinsights.com/toc/rep-gb-13123
"Companies operating in the market are introducing advanced technologies to keep pace with evolving industries. Implementation of connected technologies is one such example that facilitated remote access and monitor. These developments are anticipated to create lucrative opportunities for growth in the future." says an FMI Analyst.
Demand from various end-use sectors is projected to boost the mini crane sales. Japan, the U.K., and the U.S. are anticipated to remain some of the most lucrative markets around the world. In the coming years, demand is poised to surge as application in disaster management and electrical material handling increases.
However, owing to the pandemic impact in the year 2020, mini crane market witnessed a significant drop in sales due to disruption in the supply chain and decrease in demand. Nonetheless, with industrial activities recovering, albeit gradually, mini cranes sales will surge in response.
Mini Cranes Market by category
By Lifting Capacity
Up to 1 ton
1 to 1.8 ton
2 to 2.4 ton
2.5 to 4.9 ton
5 to 10 ton
11 to 22 ton
By Type
Spider Crane
Crawler Crane
Pick and Carry Cranes
By Operation
Fuel Operated
Battery Operated
By End Use Sector
Industrial

Foundries
Power Plants
Others

Railway Depots
Construction

Residential & Commercial
Industrial
Civic Infrastructure

Facility Management
Marine
Timber & Lumber
Material Handling & Logistics
By Ownership
By Region
North America
Latin America
Europe
East Asia
South Asia & Pacific
MEA
Who is Winning?
The global mini crane market has been identified as a consolidated market, with top players occupying majority of the overall share. Some of the key market participants which are included in the report are Manitex Valla S.r.l., Hoeflon International B.V, Skyjack( Linamar), Microcranes, Inc., R&B Engineering, Promax Access, Jekko s.r.l, MAEDA SEISHAKUSHO CO., LTD, BG Lift, Furukawa UNIC Corporation.
Want to Know More?
Future Market Insights has published a market research report on the global mini crane market that contains global industry analysis of 2016–2020 and opportunity assessment for 2021–2031. The report provides in depth analysis of the global mini crane market through different segments, namely by type, by size, application and region. The global mini crane market report also provides supply and demand trends, along with an overview of the parent market.
About Industrial Automation Division at Future Market Insights
The Industrial Automation & Equipment division at FMI adopts a novel approach and innovative perspective in analyzing the global machinery and industrial automation market. A range of FMI's market research reports offer comprehensive coverage of capital, portable, process, construction, industrial, and special purpose machinery used across manufacturing sector. The team also conducts distinctive analysis about installed base, consumables, replacement, and USP-feature application matrix, making us a prominent voice of authority in the industry. We are associates of choice for established as well as budding industry