[400 Pages Report]According to the metrology software industry analysis by Future Market Insights (FMI), the demand registered in the metrology software market will increase at a CAGR of 7.0% from 2021-2031.
The report also forecasts that the market will surpass a valuation of ~US$ 900 Mn by the end of 2021. As per Future Market Insights, an ongoing shift toward inline metrology or process-integrated measuring instruments and rapid technological advancements have created ample opportunities for application of metrology software. These technologies have become essential in improving economic competitiveness across industries, which is propelling the market growth.
Metrology is the scientific study of measurements and their successive deployment across various industries. The demand within the global market for metrology software has been rising on account of advancements in the field of electronics and semiconductors. Metrology has a wide area of operation and has emerged as an important process across an array of industries. Hence, it is expected that the global market for metrology software would expand at a significant rate in the years to come.
To remain ahead of your competitors, request for a sample – https://www.futuremarketinsights.com/reports/sample/rep-gb-226
Furthermore, growing acceptance for point cloud capabilities, drive towards precision engineering, and demand for portable Coordinate Measuring Machine (CMM) software are collectively driving adoption of metrology software solutions across the globe.
Additionally, their ability to integrate multiple functions within a single unit, thereby making device compact has further fueled market momentum in different verticals. These factors are projected to contribute towards a single digit compounded annual growth rate during the forecast period.
Key Takeaways: Metrology Software Market
By solution, the on-premises metrology software segment is anticipated to account for the leading share in the global demand for metrology software during the forecast period. However, the cloud-based metrology software segment is estimated to grow at a healthy CAGR of more than 6.0% through 2031.
The application of metrology software in measurement and alignment segment is anticipated to increase at a CAGR of nearly 7.0% between 2021 & 2031, while quality control and inspection segment is currently dominating the market.
The adoption of metrology software by healthcare sector is expected to rise at the maximum pace. As per Future Market Insights, demand in this segment will increase by a CAGR of around 6.5% between 2021 and 2031.
North America is expected to lead the market followed by Europe in 2021. South Asia & Pacific is anticipated to emerge as the fastest growing region between 2021 & 2031.
The market in Japan is expected to progress at a CAGR of around 6.0% through 2031.
In the U.K., sales are expected to increase at a CAGR of close to 7.5% over the next ten years.
 "Increase in global research and development (R&D) spending on developing and launching new metrology products and solutions will remain a chief growth driver. In addition to this, rise in adoption of big data analytics in industrial applications in order to manage the large volume of data generated across industries in appropriate manner, is likely to create growth avenues for the market" says Future Market Insights analyst.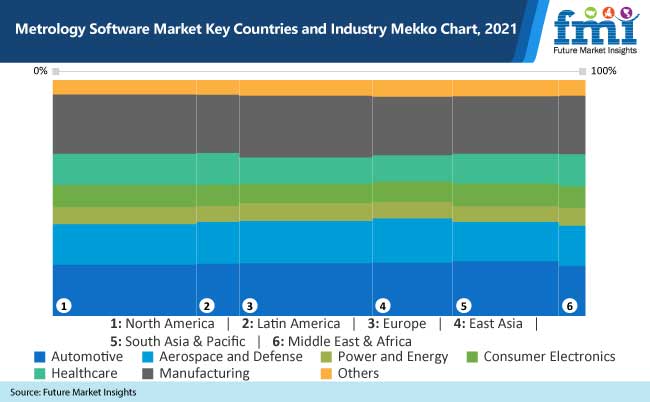 Get a Tailored Made Report to Match Your requirements, Ask from Market Research Expert – https://www.futuremarketinsights.com/ask-question/rep-gb-226
Entry Barrier for New Players Might Restrict Growth
The presence of large and strong players in the market such as Hexagon AB, FARO Technologies Inc., and others who enjoy a strong presence in sales and distribution channels, provides a significant challenge to small and new players with limited resources.
New players also find it difficult to provide all solutions bundled in a single metrology software package, which can cater to the breadth and depth of the entire product line of an end-user affecting decision-making while giving contracts.
Electronic Manufacturing Sector to Witness Significant Growth
Primary factors driving the demand for the metrology software are application of advanced technologies to facilitate electronic manufacturing and consistent development of advanced nanotechnology, smart materials, flexible electronics, and green manufacturing.
Metrology software solutions have become indispensable for electronic manufacturing and quality inspection activities. In the rapidly-growing electronic manufacturing industry, organizations are aiming to design and manufacture new products.
The electronic industry is growing at a rapid pace, owing to technological advancements and product innovation. This is driving the metrology software market, as the manufacturing processes are becoming increasingly complex.
More Valuable Insights on Metrology Software Market
Future Market Insights' report on the metrology software industry research is segmented into four major sections – solution (metrology software and services), application (measurement  and alignment, quality control and inspection, virtual simulation, reverse engineering, and others), industry (automotive, aerospace and defense, power and energy, consumer electronics, healthcare, manufacturing, and others), and region (North America, Latin America, Europe, East Asia, South Asia & Pacific, and the Middle East & Africa), to help readers understand and evaluate lucrative opportunities in the metrology software demand outlook.
Metrology Software Outlook by Category
By Solution, Metrology Software Demand is segmented as:
Metrology Software
Services

Software Consulting
System Integration & Implementation
Support & Maintenance
By Application, Metrology Software Outlook is segmented as:
Measurement and Alignment
Quality Control and Inspection
Virtual Simulation
Reverse Engineering
Others
By Industry, Metrology Software Demand is segmented as:
Automotive
Aerospace and Defense
Power and Energy
Consumer Electronics
Healthcare
Manufacturing
Others
For in-depth insights, Download a PDF Brochure – https://www.futuremarketinsights.com/reports/brochure/rep-gb-226
By Region, Metrology Software Sales is segmented as:
North America
Latin America
Europe
East Asia
South Asia & Pacific
Middle East and Africa (MEA)